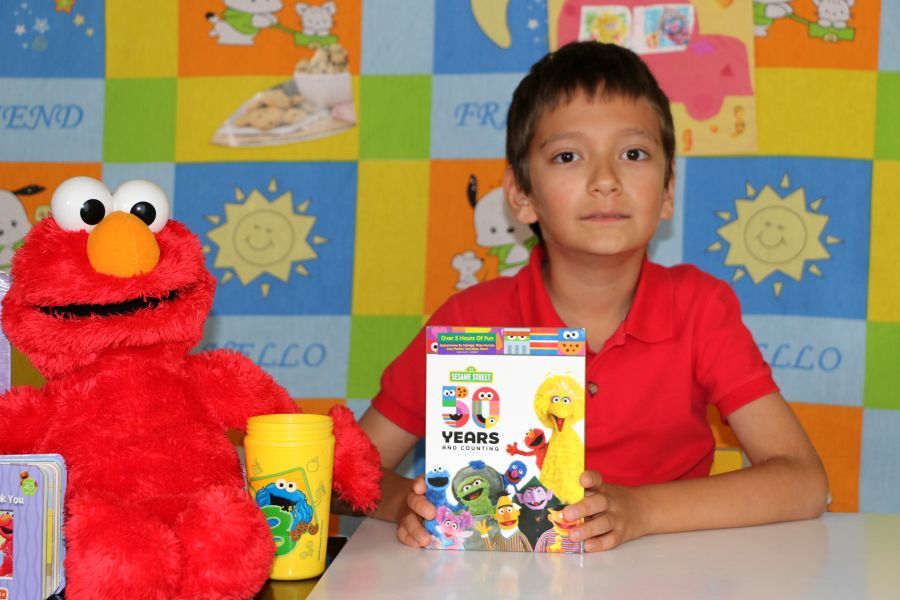 Sesame Street: 50 Years and Counting DVD
, Shout! Factory October release,
combines the best moments, songs and episodes from Sesame Street's 50 years of history.
Sesame Street
has been entertaining and educating children for 50 years, gaining dedicated fans through the years from kids to grown-ups. The release comes as 2-disk set and over 5 hours of the greatest
Sesame Street
moments from yesterday and today.
It seems a lot watching 5 hours of
Sesame Street
, but with rainy and cold weather outside, two disk were just on time. We spent great time watching the episodes drinking hot chocolate with marshmallow and eating popcorn & sweet treats.
The fist disk features the most popular moments from
Sesame Street
existence, fan-favorite animations like
"Ladybug Picnic"
and
"Pinball Number Count"
, new and classic songs from Kermit the Frog's soulful
"It's Not Easy Being Green"
and alphabet one
"I Miss My X"
. The timeless interactions between children and the Sesame Street Muppets, new version of Rapunzel story and a funny re-make of
"Twinkle, Twinkle Little Star"
into
"A Cherry in a Pie"
!
50 Years and Counting
will also let fans revisit Sesame Street's many unforgettable celebrity appearances like
Patti LaBelle
putting a glamorous spin on the alphabet song;
Amy Poehler
teaching the gang new vocabulary words; R.E.M.'s joyful rendition of
"Furry Happy Monsters"
;
Ricky Gervais
trying and failing to sing
Elmo
to sleep; and other guest appearances made pop culture headlines while embodying Sesame Street's inclusive lessons and values.
The second disc is an exclusive collection of the most iconic
"Street Story"
segments from
Sesame Street's
50-year history. With help from kids' favorite characters, the early childhood experts behind Sesame Street helped generations of families tackle big conversations through little moments like these: the neighborhood's poignant farewell to
Mr.Hooper
; the dramatic reveal of
Big Bird's
not-so-imaginary friend,
Mr. Snuffleupagus
; and the debut of
Julia
, the first
Sesame Street Muppet
with autism. The stories shows how face challenges and show real solutions to the problems. For example if you do not like something, someone's behavior, for example, you should explain it, not just ignore it. Or if you want to find new friends then go out, and tell others that you are looking for new buddies to play with.
Sesame Street's 50th anniversary celebrates the timeless lesson that
Sesame Street
has always taught: everyone, no matter who they are or where they are from, is equally deserving of respect, opportunity, and joy. There is also a
free activity kit
for kids to play and join the Sesame Street 50th anniversary celebration with favorite characters. Also join
Sesame Street on November 10th
as they celebrate our 50th anniversary with a LIVE Q&A featuring everyone's favorite furry monsters! Send in your questions now using
#Sesame50
here
!