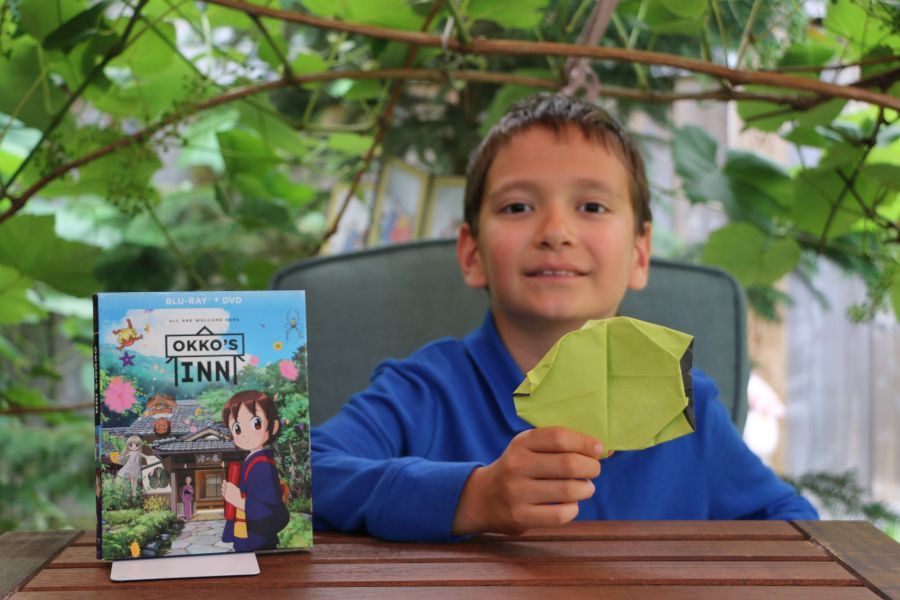 Okko's Inn
is July movie release from
GKIDS
and
Shout! Factory
. The film was nominated for
2019 Japan Academy Prize for Animation of the Year
.
The story follows young girl
Okko
who lost her parents in a car accident. Okko's grandmother decides to take girl to the countryside where she runs a traditional inn close to healing waters. Soon
Okko
discovers that there are spirits live there only she can see. The girl who is trying to deal with the loss is grieving and depressed. She misses her parents so badly that does not want to think about anything else. At the same time ghosts including
Uribo
keep her company and help her adjust to new environment.
Okko
wants to be a good host and junior housekeeper of the inn. She learns a lot about hospitality, guests, food service and support.
Okko
meets different guests, some are happy, other ones are struggling with loss of loved ones or want to find peace and relax. They all come to inn to experience something great, positive and healing. A man with his son dealing with his wife loss, or a family dealing with latest father's difficult surgery, or a famous model trying to relax,
Okko's Inn
treats everyone equally and rejects no one.
There is not only
Okko's Inn
in the countryside nearby.
Matsuki Akino
, Okko's classmate, and her parents run huge
Harunoya Inn
. They treat
Okko's Inn
as a competitor and
Matsuki
is trully dedicated to her inn. Harunoya Inn constantly works on improving their service.
Matsuki
and Okko do not have good relationship with each other. That is the reason why Okko meets
Miyo
, a ghost and Matsuki's older sister who died before
Matsuki
was born.
Once a man with health issues after surgery arrived to
Okko's Inn
. He required a special diet for his conditions the inn could not provide. Okko, knowing that Matsuki is very knowledgeable about food and special needs, decided to visit Harunoya Inn and ask for help.
Okko
and
Matsuki
were not friends but
Okko
wanted to do something good for the guest in her inn. Surprisingly, Matsuki turned out to be very helpful when it comes to guests and hospitality. She helped
Okko
giving her special recipes Okko's chef can use to serve their client.
As
Okko
is getting feeling better and start recovering from her loss, she sees ghosts less and less. At the end
Okko
and
Matsuki
participate in a special dance
Ceremony
to celebrate their inn's hospitality and the region.
Okko's Inn
is now available on Blu-Ray, DVD from
Shout! Factory
and we are excited to giveaway a copy to one our lucky reader.
The giveaway is open to US & Canadian residents and ends August 5, 2019!
For your chance simply fill the Rafflecopter form below!
a Rafflecopter giveaway
Read more ...