There are lots of adaptions of
E.T.A. Hoffmann's
classic tale presented in movies, animated features and theatres.
Disney Studios
created their own
Nutcracker
story to impress and admire. Their movie, the Nutcracker and the Four Realms, opened in November last year is visually dazzling story about favorite characters and beloved music.
The movie follow adventures of
Clara
and her family when they try to cope with death of their mover. As Christmas time approaches the whole family attends annual holiday party.
Clara
wants only one thing, find a key to unlock a box that holds a Christmas present from her mother. Every one at the party receives a gift following a personalized golden thread. The girl receives the key she wanted but for the short time as it is stolen by a little mouse.
Clara
tries to get her key back by chasing the mouse but somehow finds herself in a mysterious parallel world.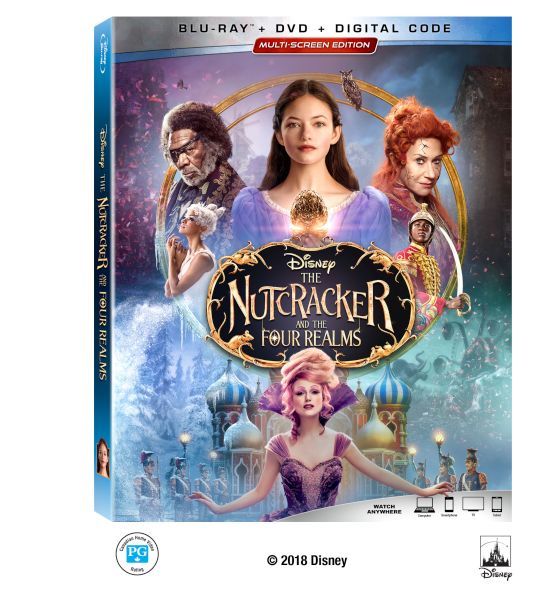 There
Clar
a meets a soldier named
Phillip
who helps the girl in her journey. They visit
Land of Snowflakes, Land of Flowers
and
Land of Sweets
. Clara also learns that her mother was The Queen of the whole kingdom. How interesting to learn that your mother reigned and was a good leader? Clara with her new friends has to brave the gloomy
Forth Realm
, home to the tyrant
Mother Ginger
. Her clowns are funny and quite scary at the same time.
The Sugar Plum Fairy
who is the regent of Land of Sweets and supposed to help
Clara
become a new
Queen
only used Clara's innocent intentions to help. It is not clear who is good and who is bad in this Kingdom until an army of tin soldiers start ruining what Clara's mother built for years.
There are some special scenes in the movie we liked the most. First one is the Mouse King fighting as a gang of mice, spectacular animated creature. Second we liked the show at the castle where
The Sugar Plum Fairy
tells the history of the kingdom, great moment to enjoy ballet scenes and hear famous
Tchaikovsky
music. And third are clowns, they are so creepy, their laughs and movements!
Now
Disney's The Nutcracker and the Four Realms
movie, magical adventure, is available on Blu-ray™ and DVD. The release includes never-before-seen extras and deleted scenes. Bonus features include a discussion with American Ballet Theatre's
Misty Copeland
about her role as the enchanting
Ballerina Princess
. Extras take viewers on the set of "The Nutcracker and the Four Realms" to meet both new and reimagined characters, and discover how
the Land of Sweets, Land of Snowflakes, Land of Flowers
and mysterious
Fourth Realm
were created to such dazzling effect.
We are excited to partner with
Walt Disney Studios Canada
and give a chance our Canadian readers to win a copy of
The Nutcracker and The Four Realms
for themselves. The giveaway ends February 6, 2019. For your chance simply fill the Rafflecopter form below and Good Luck!
a Rafflecopter giveaway
Read more ...