Warner Bros. Home Entertainment provided me with a free copy of the Blu-Ray Combo I reviewed in this Blog Post. The opinions I share are my own.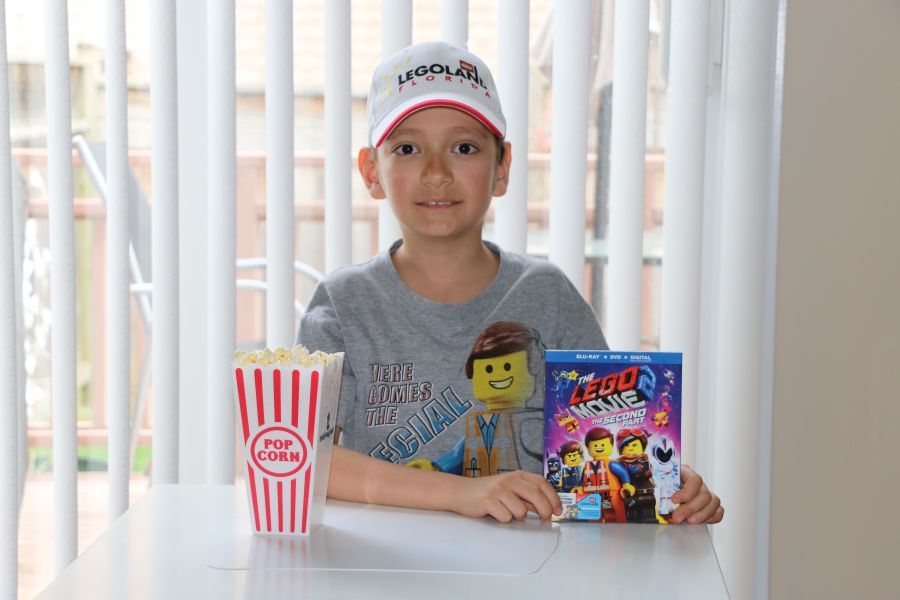 It's time to find out what happened in
The LEGO® Movie 2: The Second Part
, because now it is available on
4K UHD Combo Pack, Blu-ray combo pack
and
DVD
. If you missed the movie on the big screen as we did because we were busy with our assignments and competitions then we all can watch it in the comfort of our homes with popcorn, treats and, probably, build something new with LEGO bricks.
The Lego Movie 2
takes us to
Bricksburg
, the city where it all started. In five years this shiny and colorful place turned into the bleak and dull. Their threat -
LEGO DUPLO
invaders from outer space, which wreck everything cute, vivid, attractive and do it faster than it can be rebuilt. Most of the citizens changed, affected by constant fights and threats. No more romantic dreams, creative ideas and vibrant colors. Most of them, including
Batman
and
Lucy
, constantly expect the worst. Only
Emmet
remains true to himself, optimistic and full of creative projects to everyone's disappointment. He tries to impress Lucy by building nice family house for them, so they can live there together. But circumstances changed and evil
LEGO
creature, powerful and strong, invades to take the leaders.
The city is in chaos,
Emmet
needs to save
Lucy
and other folks from
LEGO
invaders. He travels across the Lego universe in his spaceship re-built from his house. On the way to saving his friends he meets
Rex Dangervest
who offers his help in saving kidnapped
Bricksburg
residents. Together they head to
Queen Watevra Wa-Nabi
Systar System where most of inhabitants are brainwashed with pop songs. And residents of
Bricksburg
are expected to follow them, everyone except Lucy who was able to escape. But others cannot resist
Catchy Song
and even
Batman
, claiming to stay forever
bat-chelor
, agrees to marry
Queen Watevra Wa-Nabi
.
The story, cities, invaders and
LEGO
universe is created by a boy and his sister, often Lego scenes switch to the real world, where
Apocalypseburg
is built by brother and the
Systar System
by a girl. Their interaction, conflicts and rivalry are reflected in LEGO universe.
The LEGO® Movie 2: The Second Part
is filled with funny jokes, lots of them inspired by pop culture. There is a line-up of catchy songs like
Everything is Awesome
and
Catchy Song
, also the one at the end of the movie with closing credits is incredible. The Blu-ray combo pack includes
Everything is Awesome
sing along and other songs you can sing as many times as you wish. Plus the release also includes free admission for kids to
LEGO Discovery Centres
and
Legoland Resorts
.
Everything is still Awesome in
The LEGO® Movie 2: The Second Part
!