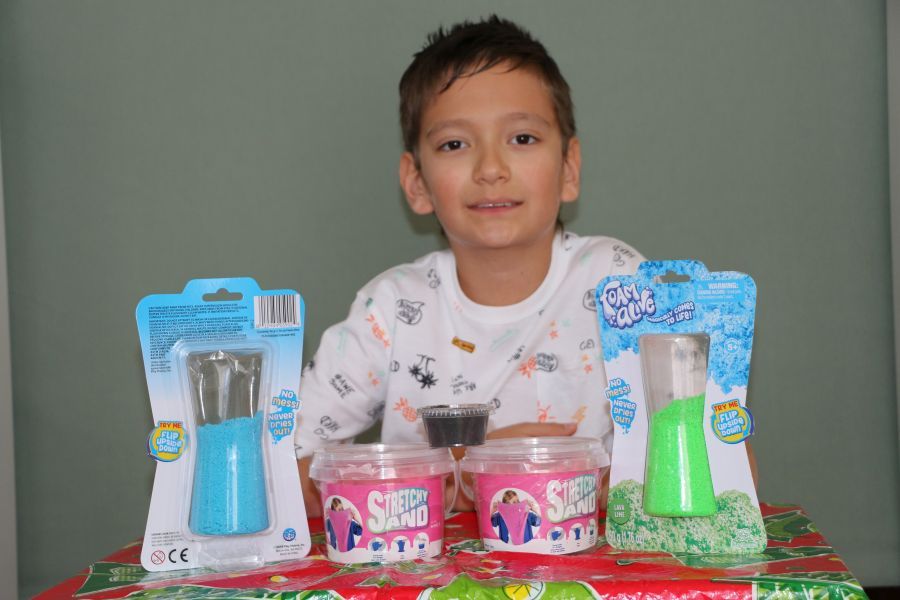 Foam Alive
is a cool new toy we were introduced this fall. In October Indigo Kids hosted a special Halloween event to show kids Foam Alive products and Nickelodeon SLIME. That was fun experience digging through
Foam Alive
and finding little treasures.
Foam Alive
is a compound that comes to life when you play with it! Squeeze, make any shape out of it and compound slowly separates and starts to move like magic. It does not stop, and it looks like it is alive.
Foam Alive
is packed inside a plastic hourglass that allows to see the motion of the material when turning it upside down. It can be used as a storage container as well. It is fun exercise for hands and Teddy suggested that
Foam Alive
can be used as a good stress release. Compress
Foam Alive
repeatedly and then let it flow through your fingers. Squeeze it, mold this soft and fluffy substance and then watch how foam melts and un-shapes itself.
It is available in three colors:
Purple Pulse
,
Lava Lime
, and
Blue Blitz
. If you mix these three colors - you can get festive flowing compound. This foam never dries out and probably creates a little mess when separates. But I like it comes dry and does not stick to the floors or a carpet. We can just pick the foam or vacuum little pieces. At
Indigo Kids
we learned funny game to play with
Foam Alive!
with kids called
Treasure Hunt
. You can place different little things or toys inside the tray with Foam and invite kids to find all the treasure items. It is actually lots of fun!
Stretchy Sand
is a new way to play with slime. It looks like a slime, can stretch and flow, but when you touch the compound, it feels like sand. The Sand has a unique texture, super soft and stretchy. You can squeeze, twist, separate it, then put back together and stretch! It is prefect for games, craft & art activities and pretend plays. It allows you to use imagination and create various shapes! We had fun time playing with it as a dough, slime, a tester for science experiments, food, letters and even sea creatures. Possibilities are endless!
Stretchy Sand
is prefect for kids and adults to use, it is non-toxic and can be used multiple times. The sand comes in a resealable tub that looks like a sand pail with a lid and a handler. When you finished playing just place your sand in the container till next time. Besides being fun toy to play
Stretchy Sand
can help reduce stress and anxiety! Just give it a try! Stretchy Sand is designed for kids ages 3 and up. It is available in four colours: pink, purple, green and blue.
These toys are sold online and in-stores
Toys "R" Us, Indigo, Mastermind
across Canada. The price for
Foam Alive
sets starts from $4.99. and
Stretchy Sand
is $9.99 for a tub.