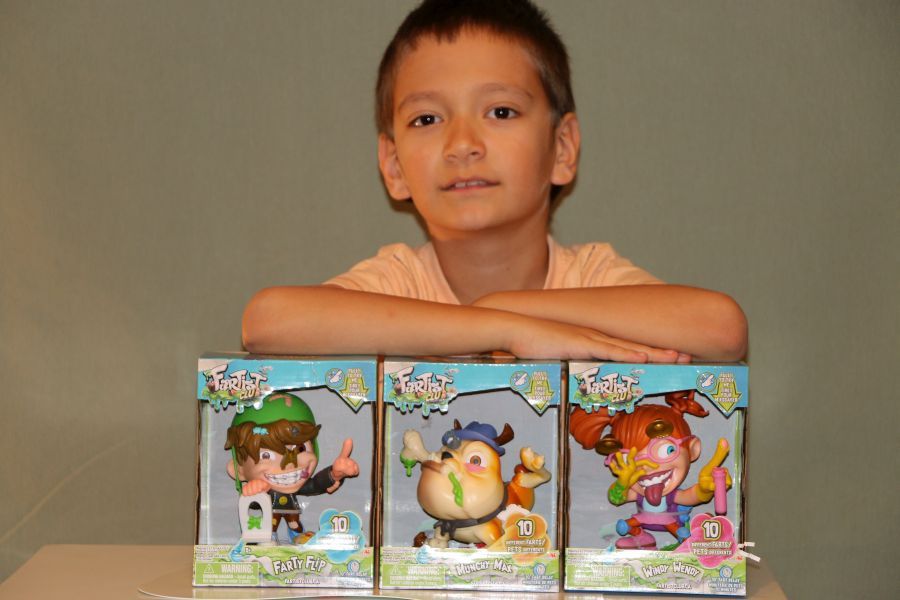 If you like pranks and tease your folks, then you are lucky because new grossest and noisiest toys are available on the market. With upcoming holidays, parties and family gatherings, kids and adults are ready to spend some off time, be silly, laughs, play, make stupid pranks and have fun.
Members of
The Fartist Club
are masters of gaseous sounds and not embarrassed about it at all. Gassy gang of friends come to entertain with various awkward sounds grosser the better. Kids can pull their fingers or a paw for a dog for flatulent, stink-free fun, each character activates 10 different fart sounds. Each toy also features 10 second fart delay mode, a special button to push to make it work. It is prankster's essential tool to play Hide-and-Fart. There are the characters of
The Fartist Club
–
Farty Flip, Ripping Randy, Windy Wendy
and
Munchy Max
.
Farty Flip
is a wicked dude wearing braces with serious skateboard skills who loves to do dirty tricks with his custom-made toilet seat-deck. His board is a rolling collection of pizza and poo remains. The nasty smell is unbearable but Flip doesn't seem to notice. As a matter of fart, he likes to rip a good bum gasser!
Windy Wendy
is the smartest among her grossest friends. Besides a dubious odor interest and a degree in Smelly Science, she is obsessed with the noble art of smell experiments. Her colleagues think otherwise. To keep them out of the lab she fabricates to most vivid fart stenches imaginable.
Munchy Max
is a dirty dog with no regrets. He is never embarrassed or feels uncomfortable about what he is doing. Max is confident and sure if something must go it has to be the ugliest and smelliest thing. No garbage bin is safe for Max. If there is not a foul smell on his findings, he does not trust it at all! Due to his dirty diet there is a constant flow of terrible gas eruptions from down under, but Munchy Max doesn't mind. So, pull his paw to find out!
The toys of
The Fartist Club
have a very good quality, and Teddy laughs when playing with them. He likes the most
Munchy Max
dog, because he is funny and innocent in his actions.
A gang of Best Fart Friends live in San Fartsisco and go to high scool. They have special challenge to stand up against their mean and clean school Principal Miss Brightshine. The stories about the Fartist Club are available on-line to watch here. There is also
DJ Fart App
available on
Google Play
and in
App store
; it allows to create different sounds and custom fart tunes.
The toys
are available on
Amazon
, ToysRUs and select retailers across Canada.