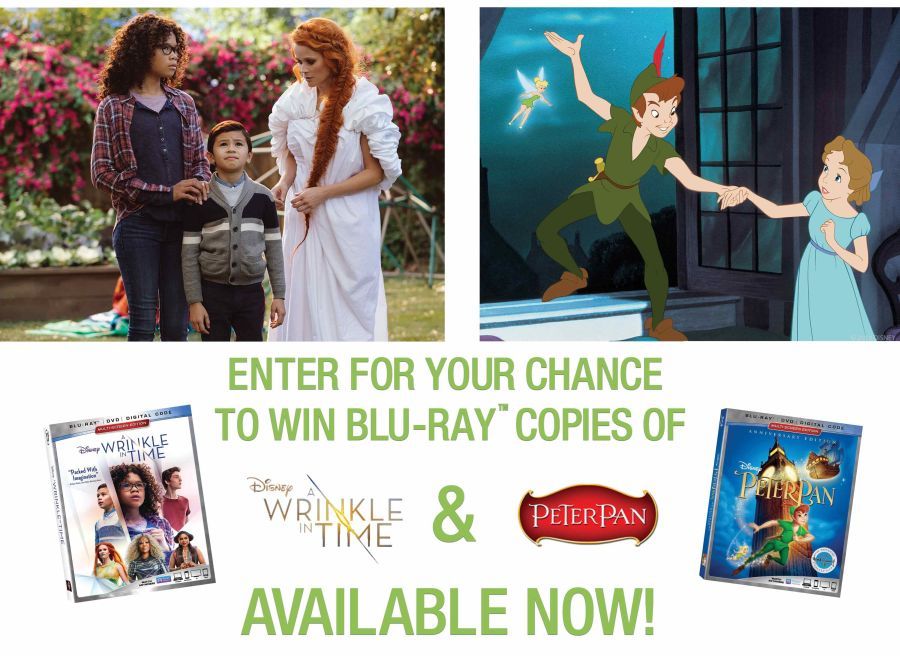 Summer is the time to relax, enjoy holidays and watch favorite movies. Luckily,
Disney
besides big screen releases brings fantastic Blu-rays to their fans. New titles which are available this June include Disney's
"Peter Pan"
and
"A Wrinkle in Time"
.
In celebration of its 65th anniversary, Disney's beloved flight of fantasy,
"Peter Pan,"
joins the highly celebrated
Walt Disney Signature Collection
, landing in homes on Digital and Movies and on Blu-ray. With a little faith, trust and pixie dust, every member of the family will let their imagination soar on this epic adventure to Never Land, sparkling with legendary animation, extraordinary music and both all-new and classic bonus features. One of our favorite features is
Sing Along
so we can join flying adventures with music. We also like that this release includes French version.
The second movie which was on the big screen quite recently and now available on Blu-ray/DVD/Digital. The story is based on
Madeleine L'Engle's
timeless classic directed by
Ava DuVernay
and follows
Meg Murray
, typical middle school student trying to fit in the school environment. Four years ago her father, famous physicist mysteriously disappeared leaving more questions than answers. Bullies at school along with teachers use this fact to hurt Meg and write ugly notes. No one believes that
Mr.Murray
ever comes back except Meg and her younger brother
Charles Wallace
. While the girl is struggling at school and can't cope with father's disappearance, her brother, little genius, helps her in every step and also wants to know what happened to their father.
With help of
Mrs. Which
(Oprah Winfrey),
Mrs. Who
(Mindy Kaling) and
Mrs. Whatsit
(Reese Witherspoon),
Meg
, her brother and their friend
Calvin
take a challenge to travel across the Universe and find
Mr.Murray
. During their journey, they visit incredible, never been before places, which takes years to reach but kids were able to get there fast. Beautiful landscapes, creatures, weird people, creepy situations and strange encounters.
Children also have to challenge their fears, go deep inside their souls and find what they really want and determine who they are. In addition to testing science knowledge, children have to follow the intuition to determine what is going on. The evil, that took Mr. Murray, uses creative weapons and targets on to the darkest memories and wishes to fulfill. Tricky situations created to deceive your vision but to offer something to reduce the pain from the past. No matter if it comes from bullies, demanding parents, or disappeared father, the evil knows which buttons to push. In this story every kid needs to learn something about themselves to find Mr.Murray and get back home.
To celebrate June Disney home releases we are excited to give away both titles to one our lucky reader thanks to
Walt Disney Studios Canada
.
The giveaway is open to Canadian residents only & ends June 20, 2018.
a Rafflecopter giveaway