Every year
Disney Nature
brings amazing movies to show how beautiful our planet is. To celebrate upcoming
Earth Day
, new Disney movie
Monkey Kingdom
is about to hit theaters this spring across the globe.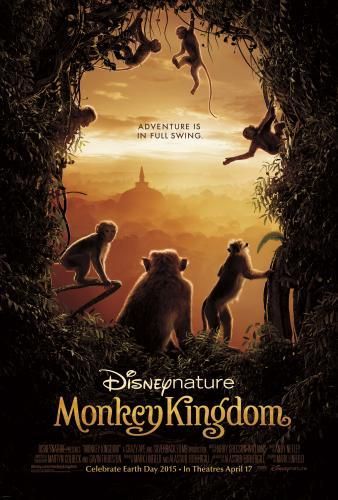 Starting April 17 join adventure of
Maya
, the clever and resourceful blonde-bobbed monkey in
"Monkey Kingdom,"
Disneynature's new feature film set among ancient ruins in the storied jungles of South Asia. Maya's world is forever changed when she welcomes her son,
Kip
, into her complicated extended family. Like all families, Maya's has more than its share of colourful personalities—and she's determined to give her son a leg up in the world.
When their longtime home at
Castle Rock
is taken over by powerful neighbouring monkeys, Maya's whole family retreats, and she uses her street smarts and ingenuity to uncover untapped resources amidst strange new creatures and unsettling surroundings. Ultimately, they will all have to work together to reclaim Castle Rock, where Maya can hopefully realize her dreams for her son's future.
Featuring a rich variety of characters, including a mischievous mongoose, simple-minded langur monkeys, predatory leopards and monitor lizards,
"Monkey Kingdom"
is narrated by Tina Fey (
"30 Rock"
), directed by
Mark Linfield
(
"Chimpanzee,"
"Earth"
) and co-directed by
Alastair Fothergill
("
Chimpanzee," "Bears"
).
With music from award-winning composer
Harry Gregson-Williams
(
"The Chronicles of Narnia: The Lion, the Witch and the Wardrobe," "Shrek"
movies), Disneynature's eighth True Life Adventure—the follow-up to 2014's
"Bears"
—comes to theaters April 17, 2015.
For our Canadian readers we are exited to give a chance to see
Monkey Kingdom
before it officially hits the big screen in three Canadian cities -
Calgary, Toronto and Vancouver
on Saturday, April 11th, 2015.
Calgary
Saturday, April 11th, 2015
10:00am
Scotiabank Chinook
Toronto
Saturday, April 11th, 2015
10:00am
SilverCity Yorkdale
Vancouver
Saturday, April 11th, 2015
10:00am
SilverCity Metropolis
For your chance simply fill the form below stating which city you would like to win tickets to. There will be three winner per city, each winner will get 2 passes (4 tickets). The giveaway is open to
Canadian residents who can attend the select screening and ends April 7, 2015
. Good Luck!
a Rafflecopter giveaway