Teddy was sick this week and while he was taking his medication along with honey and juices we decided to watch the adventures of hilarious
Thornberrys
family which came out recently. This fall, climb aboard the Thornberry CommVee and get ready for a wild venture with the release of
The Wild Thornberrys: The Complete Series on DVD
. Available this month, the 15 disc set contains all 91 globe-trotting episodes of the popular Nickelodeon series.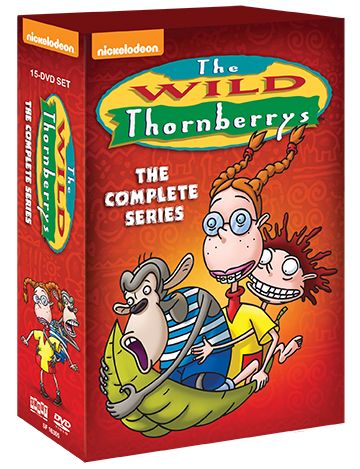 The hit series
The Wild Thornberrys
follows the Thornberry family as they travel the world in their Communications Vehicle (or CommVee) looking for rare animals to film. After an encounter with a mysterious shaman, their youngest child Eliza was given the power to speak to animals! Travelling to every corner of the world with her family of daffy documentarians, Eliza uses her fantastic skill to learn about the lifestyles and habitats of the world's most exotic creatures. Encounter wildlife in all its natural glory and eavesdrop on Eliza's conversations with silverback gorillas, pythons, crested grebes, tapirs, capybaras, antelopes and more while the CommVee travels on!
Looking at the cover of the set we were sure that somewhat crazy and exciting was ahead. Teddy memorized all the character names after watching first DVD and said that Eliza looks like me ( I think because of braces). There always something happens during
The Thornberrys
trips, so it is fun to watch. Each child in
Thornberry
family has own personality and they often do not get along easy with each other. You find that in the series the whole family needs to be creative in order to make all their travels interesting and fun.
Lady Thornberry
who records travel videos is always with a film camera in her hands. She is also a very smart mom and often keeps kids out of trouble and settle everything. There are some really funny episodes and scenes, and we laughed with Teddy a lot.
Since the release of
The Wild Thornberrys
, first time in 1998, the series became very popular on
Nickelodeon
and still continue to entertain and gain new fans.
With its vibrant animation and charming storytelling, plus an all-star voice cast featuring Lacey Chabert (Party Of Five), Tim Curry (The Adventures Of Jimmy Neutron: Boy Genius) and Flea (The Red Hot Chili Peppers) The Wild Thornberrys an epic adventure that's fun for the whole family. Produced by Klasky-Csupo for Nickelodeon, The Wild Thornberrys premiered in September 1998 and aired until 2004 with reruns airing on Nicktoons and CBS from 2002-2007.