Halloween is fast approaching and this weekend kids and adults are looking forward to costume parties, celebration, trick-or-treating, lots of candies and scary stories. We will join Halloween party in the evening and before that planning to watch Halloween programming on Family Jr. This year Family Jr. prepared lots of treats and no tricks for viewers so that everyone can we can watch Halloween-themed episodes all day long.
On Saturday, October 31
, little monsters at home can enjoy a full day of howl-arious favourites beginning at
6 a.m. ET
. Check the listing of detailed program highlights for
Family Jr.
's Halloween programming. All programming is subject to change. For a complete schedule, please visit
FamilyJr.ca
.
Stella and Sam – "Scarecrows and Pumpkins/Dinosaur Days"– 6 a.m.
Sam decides to try standing guard over the pumpkin patch as a scarecrow. During his first shift on scarecrow duty, he must apprehend a funny-looking pumpkin thief. Then, Stella, Sam and Owen travel back in time to go on a dinosaur adventure.
The Save-Ums! – "The Ghost of Wave World!" – 6:45 a.m.
Winston and Andre, playing Super Pals, pretend to rescue Winston's Doll, Betty Barnacle, from an old pirate ship. But when they go to save her, they hear a spooky noise that prevents them from making their heroic rescue.
Special Agent Oso – "Sock Puppet Royale/Costume of Solace" – 7:30 a.m.
Oso teaches Lauren how to make a sock puppet for the upcoming puppet show. Then, Oso helps Amanda create a princess costume out of items she already has at home.
Jake and the Never Land Pirates – "Tricks, Treats and Treasure!/Season of the Sea Witch" – 8:30 a.m.
Never having trick-or-treated before, Captain Hook joins Jake and his crew as they "Trick or Treasure" on Never Land. But Hook's greed gets him in trouble as he continually triggers Peter Pan's thief-nabbing booby-traps. Then, Jake and his crew help protect their friend when a Sea Witch threatens to turn the Pirate Princess into gold.
Jake and the Never Land Pirates – "Night of the Golden Pirate Pumpkin/Trick or Treasure!" – 9 a.m.
Jake and his crew set off for the Pirate Pumpkin Patch to find the Golden Pirate Pumpkin, which is said to fly over Never Land once a year when the moon is high. Then, Captain Hook wears a Halloween costume disguise to trick the kids out of their yummy "treasure" of Halloween treats.
Jake and the Never Land Pirates – "Jake The Wolf/Witch Hook" – 9:30 a.m.
When Jake disobeys a warning written on a gem, he turns into a wolf under a full moon. Jake's mates search for the cure before Wolf-Jake stays a wolf forever. Then, Jake and his crew set out to help Queen Coralie get the Golden Glam-Shell, which she needs for her special Fin and Frolic dance party tonight.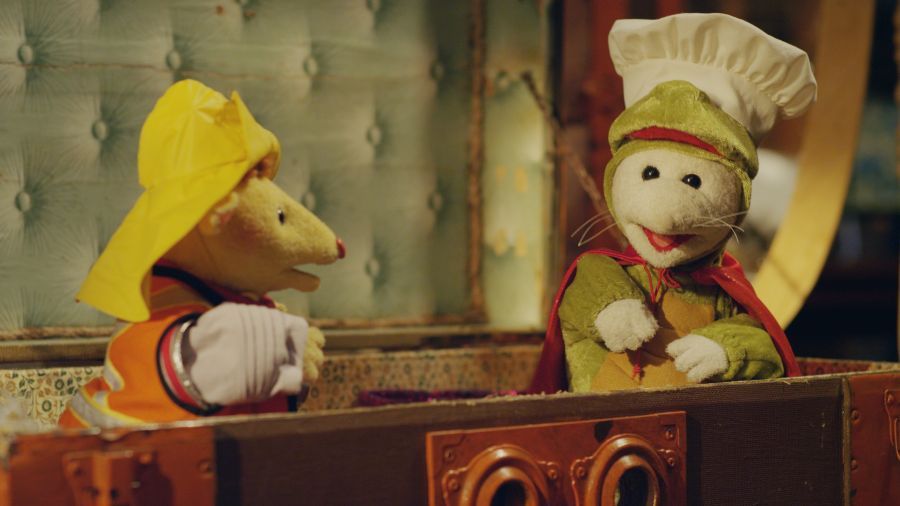 Thomas & Friends – "The Monster of Brendam Docks/The Phantom Express" – 10:30 a.m.
On a foggy night, Salty's wild tales about the Monster of Brendam Docks sends Percy and Cranky on a wild goose chase to find the Monster. Then, James tries to trick Percy and Stephen into thinking that Ulfstead Castle is haunted, but ends up scaring himself most of all.
Stella and Sam – Halloween Special – "Felix the Ghost/Monster Misunderstanding" – 11 a.m.
When Sam accidentally turns his friends into Halloween characters, the search is on for the missing wizard wand to change them back. Then, things go bump in the night when Stella and Sam become monsters in the moonlight.
Lalaloopsy – "Knick Knack Knock Knock" – 12:30 p.m.
While searching for a mysterious Ghost Dog, Specs and Bea enter a spooky mansion and are frightened by Scraps Stitched 'n Sewn, a scary-looking doll who is actually just very shy.
Special Agent Oso – "A View to a Mask/Pumpkin Eyes" – 1 p.m.
Oso helps Kevin make a Halloween mask out of a paper plate to go with his tiger costume before his friends arrive for his Halloween party. Then, Oso teaches Navé and her dad how to carve a pumpkin for a Halloween Jack-o'-lantern contest.
The Save-Ums! – "Scary Things Don't Blink!" – 1:40 p.m.
The Bats think they see a monster in the cave and the Save-Ums hurry in to investigate.
Henry Hugglemonster – "The Halloween Scramble/Scout's Night Out" – 3:30 p.m.
Dressed as a spacemonster, Henry selflessly volunteers to save the day when Roarsville's traditional Treats Balloon is carried away by a gust of wind. Then, a scouts camping trip takes a creepy turn when Daddo tells the scouts a scary story about the Spooky River Monster.
Jake and the Never Land Pirates – "Stowaway Ghosts/Happy 1000th Birthday!" – 6 p.m.
When Captain Hook accidentally releases three prankster ghosts who vow to never leave the Jolly Roger, Jake and his mates help get rid of the trickster phantoms. Then, at the Pirate Mummy's 1000th birthday party, Captain Hook "borrows" the mummy's new ship to escape an angry sand shark.
Jake and the Never Land Pirates – "Pirate Ghost Story/Queen Izzy-Bella" – 7 p.m.
Jake and his crew help Treasure Tooth the Ghost Pirate search for his lost Golden Figurehead so he can reunite with his ghostly pirate gal, Peg-Leg Peg. Then, Izzy magically becomes a legendary pirate-adventurer and completes the Queen's quest to find treasure in Never Land's Valley of Ice.