Ralph
and his best friend
Vanellope von Schweetz
live a very simple life in
Litwak's arcade
. One day
Ralph
decides to add some spark to
Vanellope's
perfect game and almost destroyed it. In attempts to save the game,
Ralph
and
Vanellope
head to Internet to find the broken game part. Both characters have never left their home that far, and the whole new world opens to them. Internet is a gigantic city with big buildings representing web sites and apps. It offers a full infrastructure and connections. Big sites like
Google, eBay, Instagram, Facebook, Twitter
and many others are the part of this big city. Everything moves, grows and shines in this very busy place. Internet opens new opportunities and traps at the same time.
Two friends plan to find
eBay
to get game's part but they never bought anything in their lives. So as it turned out they have to pay for the wheel they need and
Ralph
and
Vanellope
need money. In search of funds they stumble upon auto-racing game
Slaughter Race
where Shan, a tough confident driver with her gang suggests Ralph to make money on
BuzzzTube
, the trend-making web site. While
Vanellope
falls in love with
Slaughter Race
place and admires the game's racing spirit,
Ralph
heads to
BuzzzTube
to make more videos to raise funds to get Vanellope's game new wheel.
BuzzzTube
carries same similarities as YouTube where the life of viral videos is short and new content has to come quick and fresh.
After multiple attempts
Ralph's
videos donkey on the field, hot pepper challenges, pies, art classes become popular. People watch them, funds go up but
Vanellope
is hesitant to go back to Sugar Rush. When helping
Ralph
to promote his videos, she meets an army of
Disney princesses
. It is very nice scene of the movie, while they are all so different, they teach
Vanellope
some special skills only princesses can learn. You can also watch how princesses become super powerful when they are together, their special talents when used wisely can change the world, including digital one!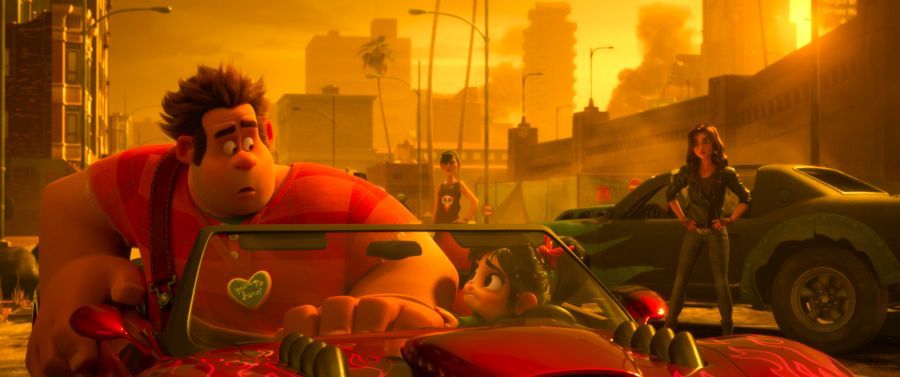 The second part of the story is not that fancy and easy to follow. I almost cried when
Vanellope
decides to stay with Slaughter Race and never go back, while Ralph fights for her friends using various methods including computer virus.
While everything looks great and friends finally are clear what everyone wants,
Vanellope
finds new hope as her racing soul really wanted.
Ralph
returns back to ruin everything to impress his game folks with what he learned while visited the Internet. His conversations with
Vanellope
are touching and heart-warming.
Ralph Breaks The Internet
is now playing in theatres across Canada, great movie to watch this holiday season.