I've never considered myself being an artist, working with paints and mixing colors. I grew up surrounded by artistic people who could do that work for me. We have a lot of art work on the walls in our house. Some of them are Teddy's oil paintings on canvas from his art school.
The opportunity to try
Cocktails 'n Canvas
came unexpectedly. I was hesitant to join but I decided to give it a try and put my hands in paints to re-create a wonderful
Valley at Dusk
. The best thing is that no experience necessary to participate because
Cocktails 'n Canvas
main purpose is to connect people in a relaxing, welcoming and creative atmosphere. They offer a fun night of socializing with friends in a local bar or pub while following the step-by-step instructions of a master local artist from blank canvas to a masterpiece. Two hours promise to be filled with interesting talks, thrilling brush strokes and new skills. You can choose the event based on the level of difficulty of your painting from easy to complex.
My event was at
Flatiron and Firkin
in
Downtown Toronto
just few days before
St Patrick Day
, so the venue was amazingly decorated for upcoming celebration and we definitely were excited to be there. The painting was
Valley at Dusk
. Step by step the instructor showed us how to create a wonderful winter scene with mountains and trees. Our teachers (two of them) were very nice and helped me in every step from picking the right brush and how I need to hold it to artist tricks how to re-create natural look of objects on the canvas. I really liked the procedures of mixing colors, besides visual results, the whole process gives some kind of relaxing and calming effect, a short color getaway- same you get during yoga exercises or therapy sessions.
Two hours went fast but the feeling of accomplishment when you go from a blank canvas to a finished painting was fantastic. You realize that you can do things you never done before. It is also great to celebrate your painting journey with a couple of cocktails and food.
I think that
Cocktails 'n Canvas
concept is a wonderful opportunity for gatherings and celebrations. Team meetings also will be fun in a creative environment, plus you do not need to visit a studio, just check if
Cocktails 'n Canvas
host an event close to your location at the local bar or pub. Cocktails and food are extra.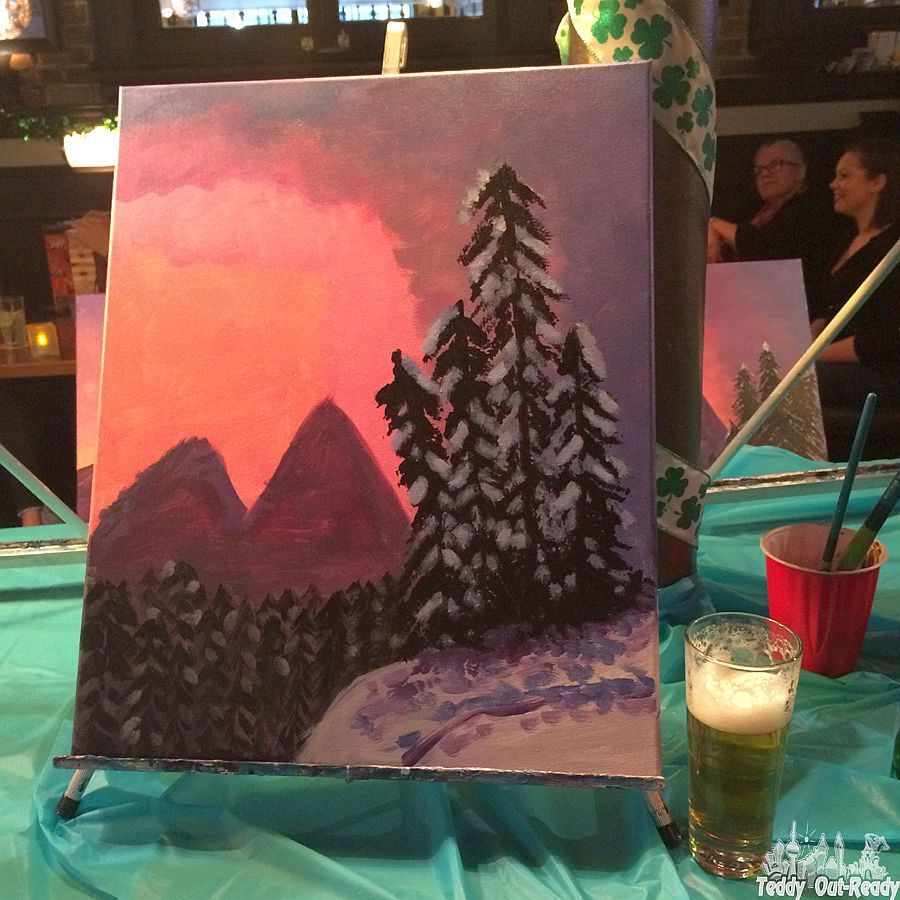 While we all painted the same picture, at the end, everyone came to unique final creation to be proud of.
For more information, please check
Cocktails 'n Canvas
event near you, the price is around $40 what includes teaching instructions, a canvas and paints. It is better to dress up accordingly for painting session and an apron will be provided. Have fun!