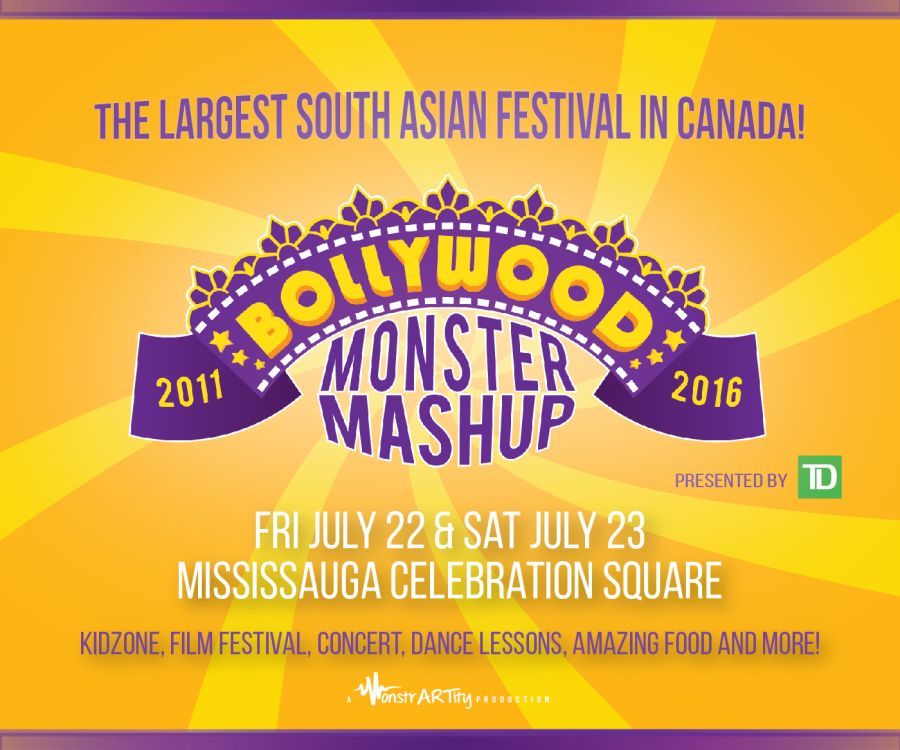 This week-end find time in your busy schedule and join thrilling
Bollywood Monster Mashup
in
Mississauga
. Sixth year this festival brings the best to the audience of all ages: music, dancing, spectacular performances, games, activities, delicious food and cheerful atmosphere for everyone to enjoy.
This year's
Bollywood Monster Mashup
introduces special cultural fusion acts to the GTA residents. The festival takes over not one, but two stages at
Mississauga Celebration Square
on Saturday
July 23rd
for free, family-friendly fun.
BMM
is proud to announce
Culture Shock Toronto
and
Bollywood Monster Orchestra: Symphony Nights
, which will perform exclusive acts created specifically for the festival.
Culture Shock Toronto
has trained rigorously for months and are excited to fuse multiple styles of Indian and North American dance at this year's
Bollywood Monster Mashup
.
Culture Shock
Toronto combines Bollywood, Bharatanatyam, bhangra, waacking and hip hop. The dance troupe has been entertaining and enriching communities across Canada for 15 years.
Prepare to see an equally unthinkable cultural fusion act entitled
Bollywood Monster Orchestra: Symphony Nights
. This signature performance is a mashup of classical symphony musicians performing popular Bollywood tunes. This Canadian orchestra draws inspiration from all over the world and is renowned for combining Bollywood, classical, Western, jazz, Latin, and other genres. Bollywood Monster Orchestra: Symphony Nights is a once-in-a-lifetime experience created just for the festival.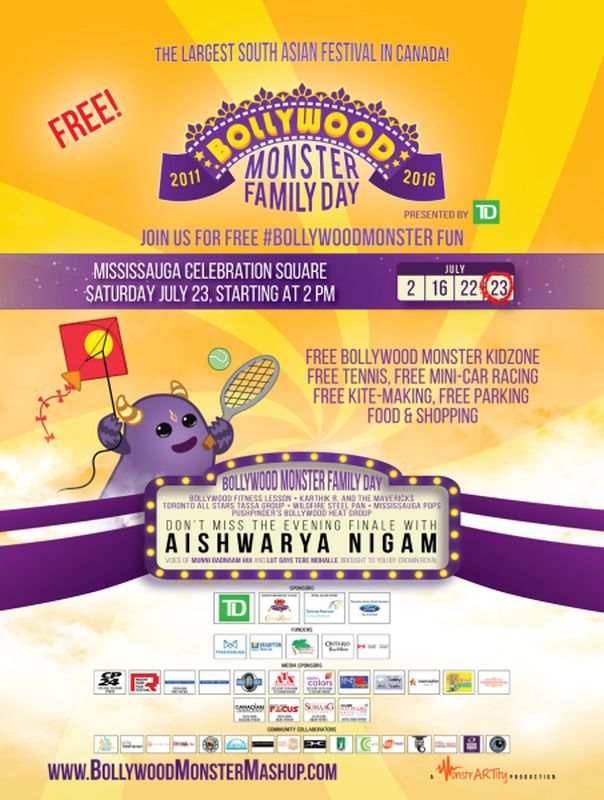 On July 23 the popular
KidZone
once again makes its annual appearance at the festival.
The KidZone
is where parents can bring their children to take part in free activities such as mini-car racing, kite-making, tennis, dance and fitness lessons, and more!
The festival culminates with a performance from international Bollywood star
Aishwarya Nigam
, brought to you by
Crown Royal
.
Aishwarya
is the voice behind
Salman Khan
in
"Munni Badnaam Hui"
in the hit film
Dabangg
, as well as the voice of
Ranbir Kapoor
in Besharam's hit song
"Lut Gaye Tere Mohalle."
Two more amazing performers will join
Bollywood Monster Mashup
this hot summer week-end in Mississauga:
Sanchari Bose
and
Bishakh Jyoti
. On Thursday we had a chance to meet all the performers at media reception and ask some questions about their music, inspiration, struggles and future plans.
Sanchari Bose
is absolutely sweet woman with a wonderful voice. She is looking forward to singing at
Bollywood Monster Mashup
and loves her audience. Being a voice competition winner, she advises other performers perusing their music career do not give up, be strong and decide what is best for them. Her future plans are continue singing and bring wonderful performances to her audience.
Bishakh Jyoti
is talented director, performer, dancer and a creative artist. Looks like what he thinks about, touches and creates become favorite pieces. He has abilities to reflect drama, joy, conflict, love, despair and hope, pain and relief via music to touch the audience's feelings.
Bollywood star
Aishwarya Nigam
has an amazing strong voice; we liked listening to him live during the reception. He promises to touch each in the audience with his music performance on July 23 at
Bollywood Monster Mashup
, and I am sure he will do.
Come out and join this amazing festival with activities for the whole family,
Bollywood Monster Mashup
is
the event not to be missed.