We love movies especially animation ones, there are lots of amazing releases we watch every year. New animation movie
Norm of the North
is about to hit the big screen at the beginning of January 2016. Displaced from their Arctic home, a polar bear named
Norm
and his three lemming friends wind up in
New York City
, where Norm becomes the mascot of a corporation he soon learns is tied to the fate of his homeland.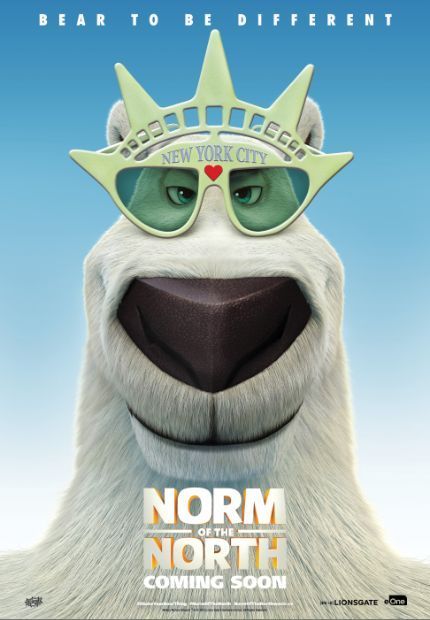 A polar bear of many words, Norm's greatest gripe is simple: there is no room for tourists in the Arctic. But when a maniacal developer threatens to build luxury condos in his own backyard, Norm does what all normal polar bears would do…he heads to New York City to stop it. With a cast of ragtag lemmings at his side, Norm takes on the big apple, big business and a big identity crisis to save the day. The film stars
Rob Schneider, Ken Jeong, Heather Graham, Loretta Divine, Bill Nighy, Gabriel Iglesias, Colm Meany, Michael McElhatton
and opens across Canada January 15th.
Thanks to
Entertainment One Films
we are excited to give away passes to the advance screening of
Norm of the North
on January 9th, 2016 in
Toronto, Ottawa, Vancouver & Winnipeg
. For your chance simply fill the form below and add the selected city for the screening.
NORM OF THE NORTH
Advance Screening Date:
Toronto: Sat, Jan 9 - 10AM @ Cineplex Odeon Queensway
Winnipeg: Sat, Jan 9 - 10AM @ SilverCity St. Vital
Ottawa: Sat, Jan 9 - 10AM @ Cineplex Cinemas Ottawa (Formerly Coliseum Ottawa)

new

Vancouver: Sat, Jan 9 - 11:00 AM International Village, 88 West Pender
The giveaway is o pen to Canadian resident only, the winners will receive e-passes to the screening. Each pass admit four.
The giveaway ends December 30, 2015.
a Rafflecopter giveaway