Our family loves spending time at
Black Creek Pioneer Village
. We always invite our relatives and friends there to learn how people can leave without electricity, TV, smartphones and have a happy and an exciting life. There are so many special events during the year and last Saturday, on December 5th, we boosted our holiday spirit by coming to
Black Creek
to enjoy
Christmas By Lamplight
event.
The event time was from 6pm to 9:30pm. It was completely dark and the only sources of light on the street and in the buildings of the village were kerosene lamps and candles.
There was a lot of live music and singing performances. All of them related to Christmas. In
Mennonite Meeting House
The Playford Players
performed
Guitar and Hammer Dulcimer duet
. They encouraged audience to participate and Teddy played jingle bells when
The Playford Players
sang
Jingle Bells
song.
In the middle of
the Town Hall,
Green group of singers were singing Traditional Christmas Carols around the fire pit. It was enough flashlights, lyrics and hay bales around the fire to join performers. In
the Town Hall
Nollaig
, Folk Music quartet played Christmas tunes, enriched with sounds of violin and flute.
James Levac
played piano in
Doctor's House
. The gem of the night for us was a concert of
The Ambiance Singers
in
Fisherville Church
. The ensemble of 20 to 25 women performed Christmas Songs with
Danny McErlain
as a pianist. It was amazing and I highly recommend listening performance that takes about forty minutes from beginning to the end. Teddy also took a lesson of
Ballroom Dancing
in
Half Way House Ballroom
.
Mumblypeg
duet played for dancers catchy dancing tunes with a harmonica and a guitar.
There were a few houses with
Christmas Craft
activities. Teddy made beaded an icicle twist and a heart in
Weaver's Shop
and Ribbon Tree Ornament in
Stong's Second House
. Old style Christmas tree decorations now outshine modern ones on our family's Christmas tree.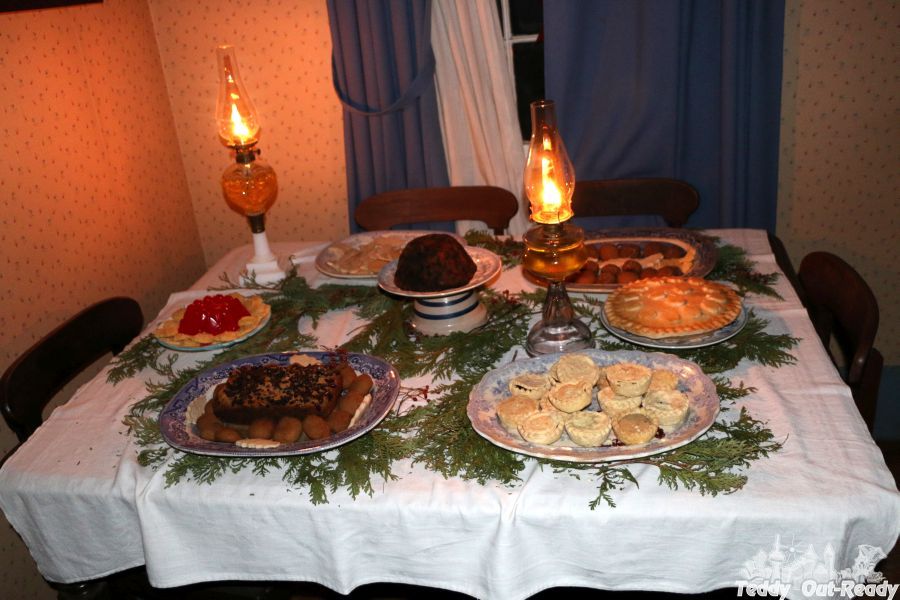 We really enjoyed free testing of traditional Christmas treats. Candied Orange Peels, Turkish Delight, Treacle Toffee, Cheese Straws, Mincemeat Tarts, Gingerbread Cookies, Peppermint Pastilles – all prepared and cooked using hundred years old recipes. When you taste them, you can feel the difference with similar treats from our grocery stores. There are some special ingredients in them. For example it was a hint of cayenne pepper in
Cheese Straws
and you have pungent aftertaste after trying it.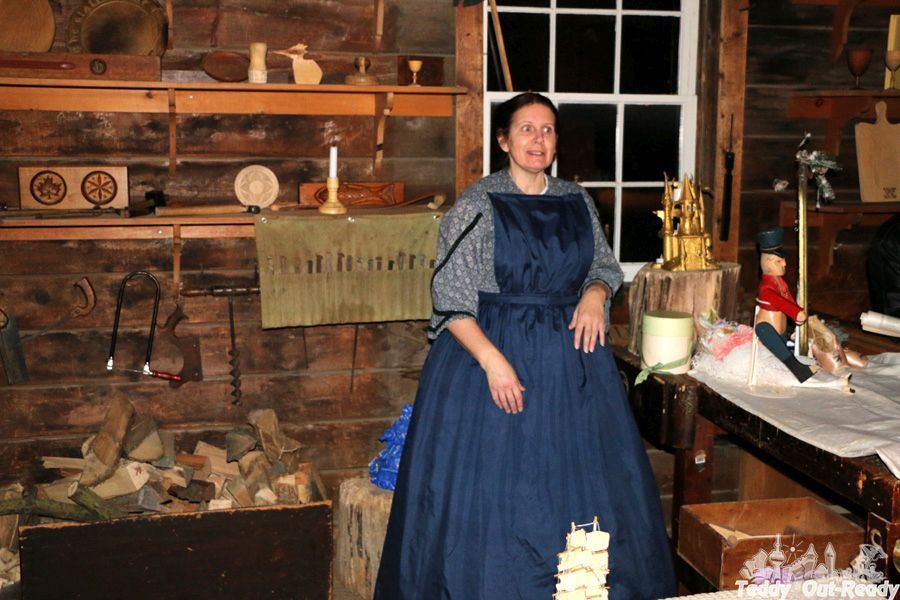 Teddy liked
"Tin Soldier"
,
Rod Puppet Performance
and
"T'was the Night Before Christmas"
book reading. School Lesson was fun, but Teddy was surprised to learn that corporal punishment was common in the schools at that time. And, of course,
Santa
was in
the Village
in
the Flynn House Santa's Cottage
. Teddy has some time to remind Santa that he wants a Table Hockey this year. Santa tried negotiating and choosing a second choice gift, but Teddy was unwilling to compromise.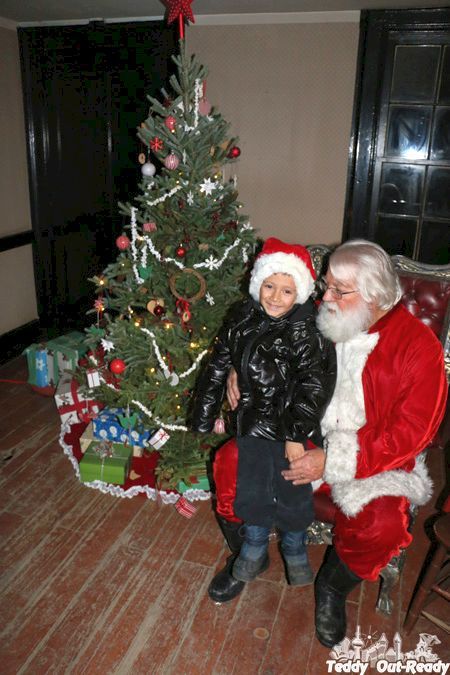 It was an exceptional night and we enjoyed every minute of it. It is so many activities there that you need to plan carefully in order to cover as many as possible of them for three and half hours. And definitely come at 6pm sharp. It will be two more
Christmas By Lamplight
nights before the Christmas - on December 12th and 19th. Bring all your family, everyone can find something special there and experience
Holiday Season
in our ancestors way.