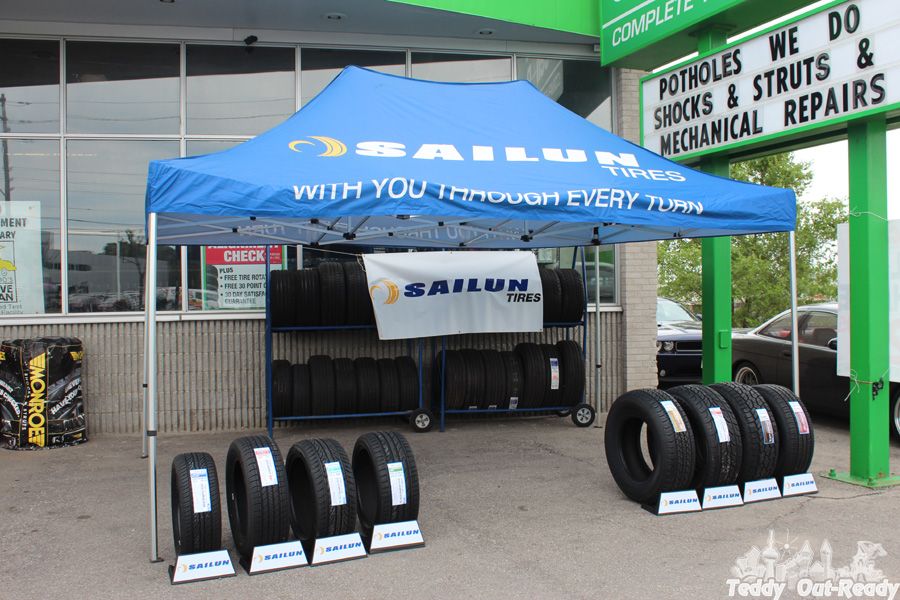 The school year is over and summer is on its peak with vacations and road trips, long and short ones. Water, mud, snow, slush and other conditions depending on a season are what tires experience on the road and designed to keep us safe in our cars. You know how harsh Canadian weather can be, especially in winter, safety is always our first priority. We know that our smooth and safe ride starts before we get into the driver's seat. No matter what season we have - safe drive is what we always look for.
Recently we were invited to Car Care Event organized by
Sailun Tires
and
PTPA
at
Etobicoke
Active Green+Ross
. Honestly speaking, before the event I did not pay attention to most of car maintenance discussions, especially when I know that there are family members who are in the industry, pretty knowledgeable about it and always ready to help. The event started with
Sailun Tires
introduction to tires, how important they are for a car safety. We learned what the tire labeling means, it looks like a UPC number.
Proper tire inflation is very important, it gives you safe and smooth ride, save you money because tires serve you longer plus reduce fuel consumption. Under-inflation of only
5psi
can diminish the life of a tire by
25%
. Significant temperature variance can affect a tire pressure change. Over-inflation is not good either and results in shorter tire life. Another thing, for maximum support, you need to rotate your tires every
6000 km
depending on a vehicle type to minimize tire wear. Everyone knows that cars are expensive, so to make sure we get the most of our driving, safe and reliable, few things need to be done by car owners, like measuring tire pressure every month and rotating tires twice a year.
Next part in our
Sailun Car Clinic
was practical learning. We split up into teams and under the guidance of the professional mechanic changed a tire on a real car. It was very helpful experience, now I feel pretty comfortable of using the jack and other tools which were before more like
"do not touch"
items. I was terrified before by a thought of changing a flat tire during cold winter day with temperature -20C, now I think I can do it, even alone without anyone's help. The last step was to learn what is inside our cars: transmission, oil, lights and other interesting items to understand how they work.
Overall, we had an amazing experience at
Sailun Tires
Car Care clinic, I am glad that
Sailun Tires
takes safety on the road very seriously with true belief in quality and support of their product and building strong relationship with their customers worldwide. Their reasonable prices and great quality products already took over 50 countries including Canada.
The Car Clinic
is another way to teach public about the safety on the road.
We are also excited to share that
Sailun Tires
and
PTPA Media
are generously offering a set of tires to win to one lucky person. The giveaway is open to Canadian residents only. For your chance simply fill the form below.
Free Set of Sailun Tires