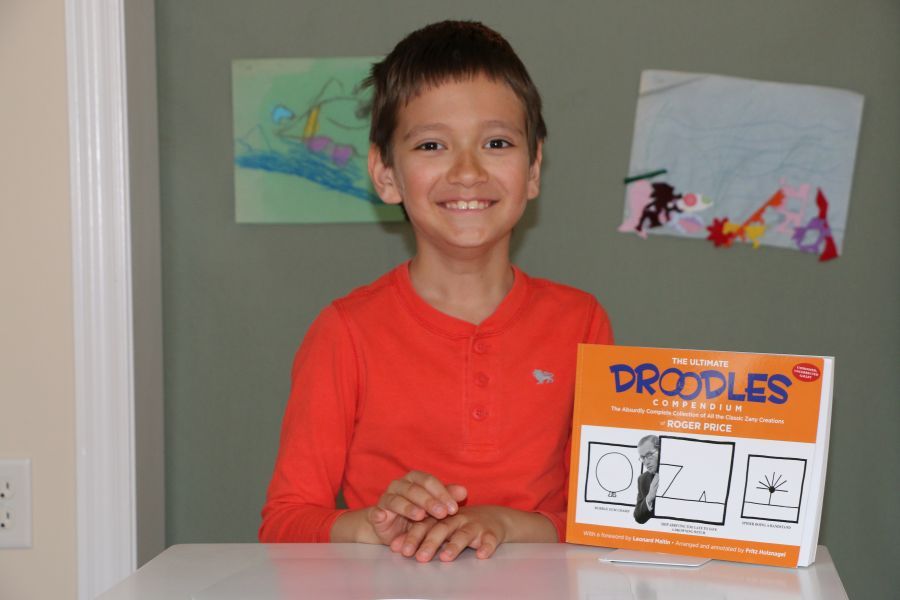 Droodles
are small silly drawings in a square box. Created by talented writer and comedian
Roger Price,
Droodles
were very popular in 1950s and some of his creations are still used in media and printed publications. These drawings remind you senseless scribbles everyone makes on a paper when bored or waiting for something like doctor's appointment or at a lame business meeting.
Droodles
are improved way to waste time as the creator noted.
The book
The Ultimate Droodles Compendium: The Absurdly Complete Collection of All the Classic Zany Creations
is a collection of
Roger Price
creations, all in one place. When we fist opened the book, it was pages with many square boxes with drawings even a little kid can draw. Everything looked simple until we started reading the captions, that's where the fun begins. We laughed so hard on two triangles or a tiny spot in the middle of the square box. Can you imagine that we had hysterical laughter (our bellies still hurt) on an white square with black border? That was unbelievable. Those drawings in the book are so amusing.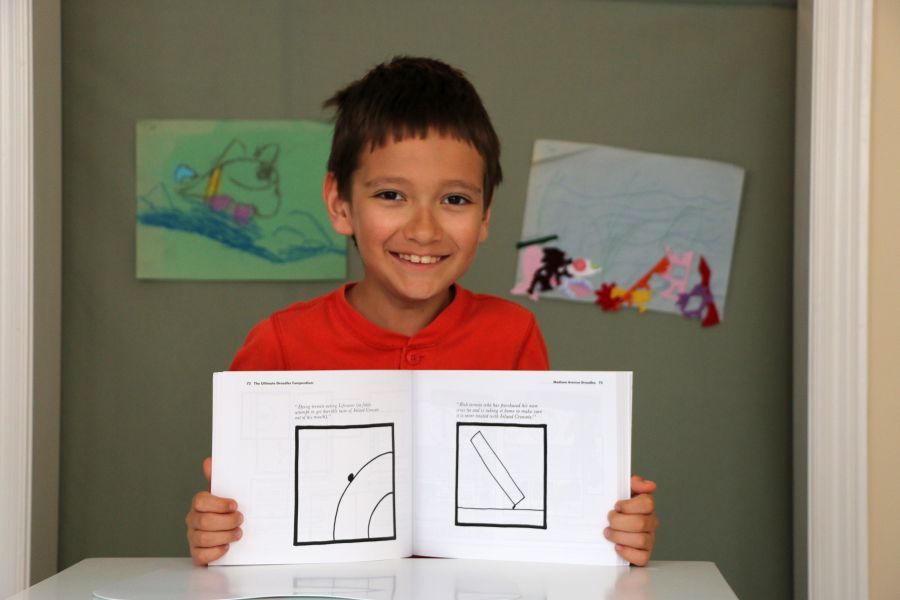 The book also contains historical photos, Droodle- based adds, early scribblings, original Price's Droodles, annotations, essays, and a brief history of
Roger Price
and
Droodles
.
Since Droodle are for EVERYBODY and does not require special artistic talent, there is a chapter in the book called
Do-It -Yourself Droodling
. There
Roger Price
offers basic 14 shapes to use and letters for witty titles. Teddy tried to use these shapes and came up with something ridiculously funny. Of course, you are not obliged to use these shapes, they are just for fun to use!
If you think the title does not perfectly fit the drawing you can create more and more alternate titles, often with absolute different meanings as we noticed in the book.
Funny thing, we want to go back to check book over and over again, and every time come out with smile and laughter after reading. I think this book is laughter contagious because when Teddy showed this book to our guests, they all read it with smile on their faces.
With Father's Day approaching
The Ultimate Droodles Compendium: The Absurdly Complete Collection of All the Classic Zany Creations Book
makes a nice gift! Available Amazon, this collection of hilarious dad jokes will definitely put smile on Father's face!