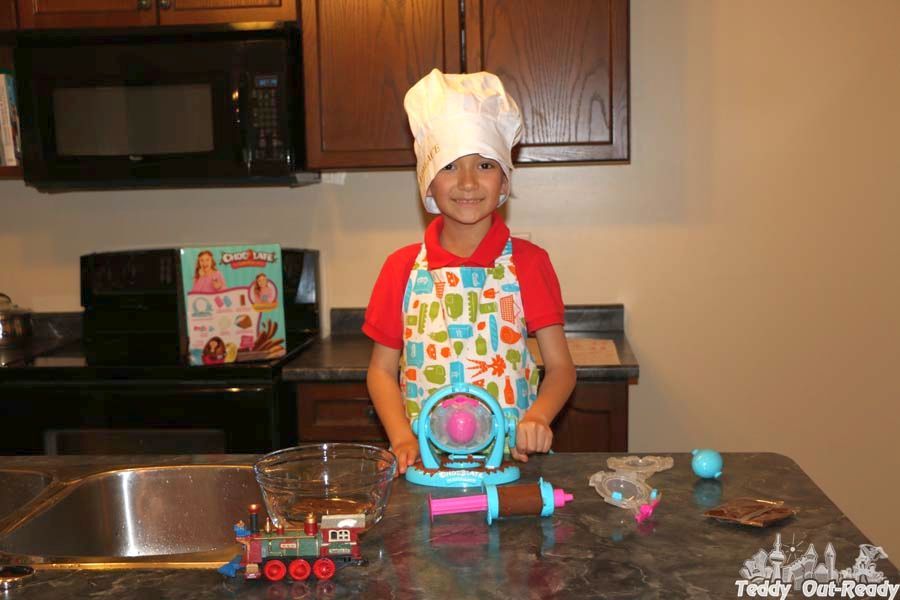 JAKKS Pacific Chocolate Egg Surprise Maker
is food activity kit that allows children to make their very own chocolate surprise eggs! We like
Kinder
surprise eggs and the idea of making own chocolate eggs was very intriguing.
Designed for kids ages 6+,
Chocolate Egg Surprise Maker
set includes one egg maker, one dispenser, two egg molds, four capsules, six foils and four chocolate pouches.
The Maker
was easy to put together and all part are pretty good quality except may be a dispenser.
We followed the instruction and it says melt one pouch in hot water, so we did it and filled the dispenser with melted chocolate from one pouch. When we started to release it to make a chocolate-covered egg, it was not enough even to cover a quarter of the egg. So we realized that we need to use all four chocolate pouches to make one covered egg. After melting the rest of chocolate we tried to use the dispenser but the content instead of coming forward went back through the holder. Finally, we managed to cover one egg, it was kind of hard because we had to take leaking chocolate and put it back into the dispenser. It was total mess but it was fun.
To make another egg we needed extra chocolate to melt. In the capsules we added
Lego Christmas
toys. Our creations looked like pretty chocolate eggs except the capsules attachments on both sides. They were not fully covered with chocolate.
We wrapped the eggs made in foils that were included in the set. Our final versions were ready.
Overall, we had fun making own surprise chocolate eggs. It took time to make just one perfect egg and we finished all the chocolate we had in the set. I can say it worked but it was a little harder than we expected.
Chocolate Egg Surprise Maker
is available at major
Canadian
retailers with prices ranging $20-30 CAD.