It is time to get back to the beautiful ocean which does not have any walls and join adventures of characters which became our favorite more than a decade ago. Only this time it is all around never boring and forgetful blue tang
Dory
(voice of
Ellen DeGeneres
). Once she remembers that somewhere there is her family she misses so much and wants it back. While she is determined to find her family,
Marlin
,
Nemo
's father (voice of
Albert Brooks
) is quite reluctant to go on the journey to
California
worrying about
Dory'
s and
Nemo
's safety. Nevertheless, the trio decide to cross the ocean to reach
California's Marine Life Institute
. Once they get to
the MLI
,
Dory
and her friends face multiple challenges. They meet various ocean creatures and ask for help to find
Dory
's mom and dad. One moment
Dory,
Nemo
&
Marlin
are together and next they are separated and try to find each other.
At
the Marine Life Institute Dory
finds help from
Hank
(voice of
Ed O'Neill
), an octopus who is a master in disguise and wants to help
Dory
in exchange for the tag she got from the staff. She also meets
Destiny
(voice of
Kaitlin Olson
), a nearsighted whale shark who recognizes
Dory
as they were close friends many years ago but Dory does not remember that. The adventures would not be hilarious without
Bailey
(voice of
Ty Burrell
), a beluga whale, whose echolocation skills are found real purpose and appreciation. Almost until last moment I had a feeling that
Dory
is not going to find her parents, because after many years it is almost impossible. The story is very touching as
Dory
remembers different moments from her childhood and not all of them at once, just one by one. Soon she finds that her home, called
Ocean
, really was not the ocean but a huge tank where rescued marine creatures find temporary home at
the MLN.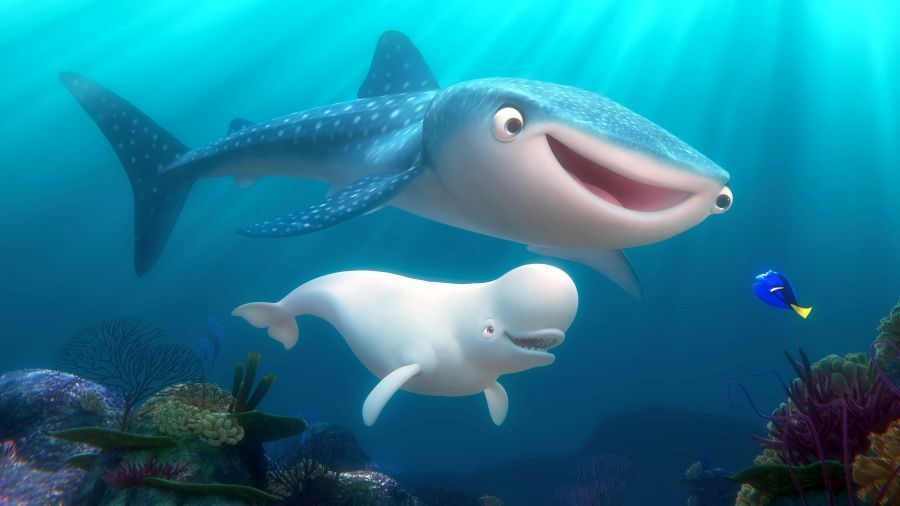 Finding Dory
totally convinced me that sometimes it is good to have memory loss so that you do not remember that you cannot do something and follow your dreams. In this story Dory and her parents do so much to find each other,
Dory
with short memory loss but with hope in her heart to find her mom and dad. And Dory parents who never questioned that one day their lost girl shows up and never stopped waiting for her.
The movie now playing in theatres, so do not miss an opportunity to watch
Finding Dory
on a big screen. It is spectacular movie for the whole family and perfect for upcoming
Father's Day
weekend!