Taking care of toddler is not easy and
The Incredibles
family know that. Though
Jack-Jack Parr
is cute and lovely, he also curious and can't sit for a second quietly, he needs to move, explore and share his emotions.
What if a little baby has powers like the rest of the family? In the new movie
The Incredible 2
that coming out June 15,
Jack-Jack Parr
gets full attention as he shows not only one but multiple power skills. Do not let chubby face to trick everyone,
Jack-Jack Parr
is a powerful member of his family!
To celebrate the release of
The Incredibles 2
film,
Jakks Pacific
presents new line of
Disney Incredibles 2
toys and the most adorable is
Jack-Jack Attacks Doll
. Designed for kids ages 3+, the toy comes as an ensemble of
Jack-Jack
and a raccoon.
Jack-Jack
doll easy to play, just press on baby tummy and kids can hear various funny sounds baby makes like crying, babbling, laughing, shouting and speaking baby language. The doll looks exactly like its big screen version,
Jack-Jack Attack
has rooted hair, moving hands and legs, he can sit and stand with some help and, of course, held that intruding raccoon.
And the best part little
Jack-Jack
can show his laser eyes, become flames when really angry, throw electric sparks with light and teleport turning into light blue color. It is quite challenging to copy digital version into a real toy but
Jack-Jack
's abilities successfully presented via changing lights and sounds. While some powers are easy to notice, the ability to teleport is not easy to spot. Teddy saw it only a couple of times while playing with
Jack-Jack Attack
!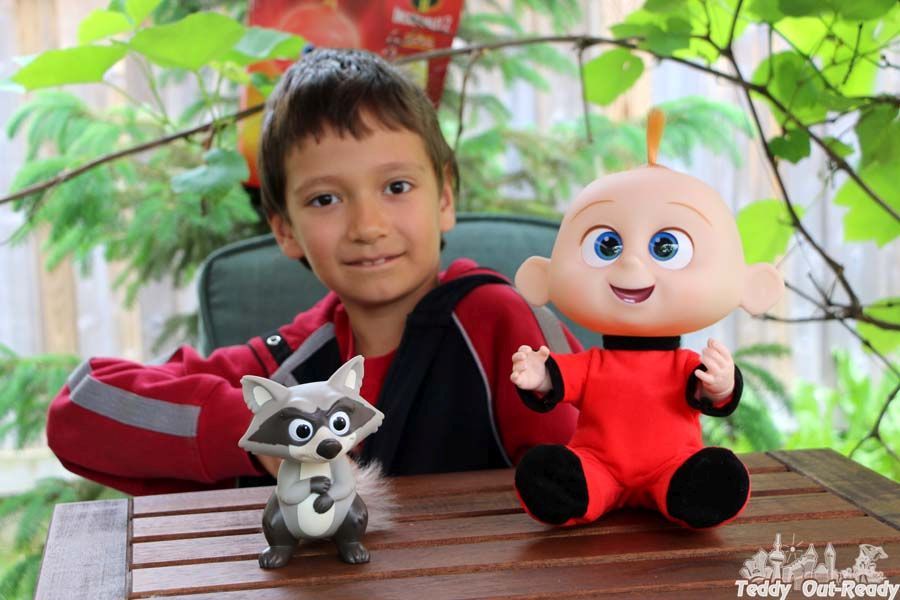 The toy includes a raccoon figure so children can play a scene from the movie when
Jack-Jack
notices an intruding guest in the backyard.
Jack-Jack
and a raccoon look funny together.
Jack-Jack Attack
toy is available at
ToysRUs
, Walmart and other major toy retailers across Canada and online. This toy would be a fun toy for young fans of
The Incredibles
.