Mysticons
series were launched last year on
YTV
in Canada and already gained lots of fans. The adventures of four girls whom fate brought together to become legendary warriors.
Mysticons
is a combination of action, mythology and urban fantasy. There are episodes when real feelings mix with superpower and mythic creatures.
Arkayna Goodfey
is a smart, determined, and idealistic princess.
Zarya Moonwolf
is a street orphan who has survived by her wits and nimble fingers. She's tough, smart and fiercely protective of other street kids, especially
Piper
.
Piper Willowbrook
is an optimistic, bubbly, young elf who is in constant motion.
Emerald "Em" Goldenbraid
is a wise and courageous dwarf with a big heart. Each girl as a
Mysticon
gets own power and weapon to fight dark forces. Though girls are so different from each other and even lived in different worlds in the past, their diversity is what unites them and make them stronger. It looks like their skills, power, past experience complement each others.
Arkayna, Zarya, Piper
and
Em
show how they can work together as a team besides being so different.
Besides being great warriors, each girl has own style for everything from weapons to clothes, accessories and hair.
Mysticons
celebrates not only every girls' strength, confidence and character but also diversity and respect!
With new episodes which returned to
YTV in April
, we are also excited to share that the
Mysticons
toys are now available at Toys R Us locations in Canada. I think
Mysticons
toy line successfully reflects the true girl-power.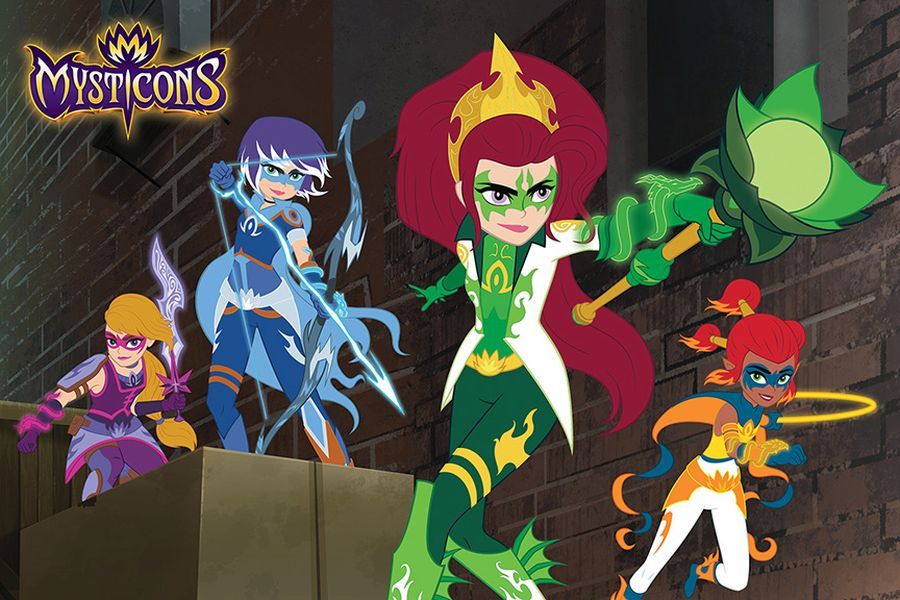 We had a chance to take a look at new toys and even got a few for ourselves to play. There are 7-inch action figures representing
Arkayna
, Zarya, Piper
and
Em
. As well as
Battle Gear Sets
for each
Mysticons
warrior, which include child-sized mask, weapon and bracer girls will be happy to play with.
We are looking forward to new episodes airing on
YTV
every Sunday at 10:30 am. New interesting stories, unexpected twists and battles await us every week.
Plus check our interview with
Evany Rosen
and
Ana Sani
, voices behind
Em
and
Piper
respectively. They tell us what it takes to work as
Mysticons
team and how the series changed their real life.