Warner Bros. Home Entertainment provided me with a free copy of the Blu-ray I reviewed in this Blog Post. The opinions I share are my own.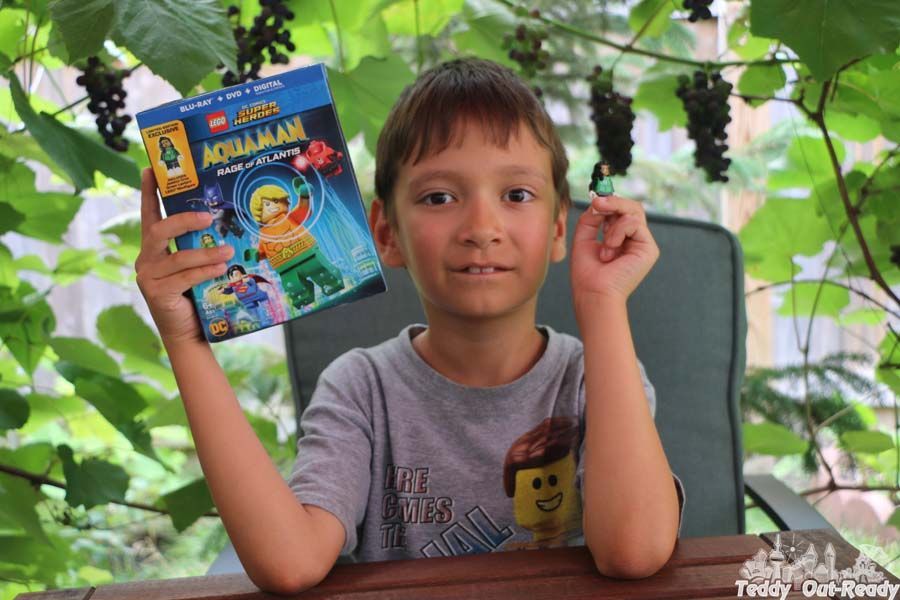 We like watching
LEGO
movies when you dive into the world where everything and everybody made of LEGO blocks. The recent
Warner Bros. Home Entertainment
release
LEGO DC Comics Super Heroes: Aquaman – Rage of Atlantis
Teddy was looking forward to watch. Summer is on its peak, it is hot outside, kids are on vacation and eager to enjoy Superheroes films.
The movie starts with showing
Atlantis
, the Kingdom of Water and Wonder.
The King of Atlantis
must make some difficult decisions to ensure the future of his ocean realm. Under attack from
Atrocitus
and
the Red Lanterns
,
Aquaman
realizes he must find ways to get his water kingdom back and go on a journey to regain his confidence before returning to his rightful throne.
Aquaman
cannot fight the villains alone,
the Justice League
comes to
Atlantis
to help. While the most powerful team is on-site, it seems not that easy to conquer in the depths of
the Seven Seas
. Even Aquaman's wife joined
Atrocitus
army along with the whole population of Atlantis under the power of the Red Lanterns.
Batman, Superman, Wonder Woman
make a great team as usual, impressive with their skills but not enough to win
Atlantis
. At the same time
Aquaman
gets into silly situations and almost loses any respect as a powerful superhero. But when gets out of
the Seven Seas
with his friends from
the Justice League
,
Aquaman
learns how to use his abilities and, the most important, becomes confident in his plans and actions. Superheroes must conquer
Atlantis
enemies not only in the depths of the water but also in the air, on land and another planet!
The newest member of
The Justice League Jessica Cruz/Green Lantern
plays a vital role in the battles, her abilities find new outcomes in difficult situations. Her mini-figure is included in our
LEGO DC Comics Super Heroes: Aquaman – Rage of Atlantis
movie set. Though superhero fights are usually very tough and destructive, in LEGO movies they end up in broken blocks.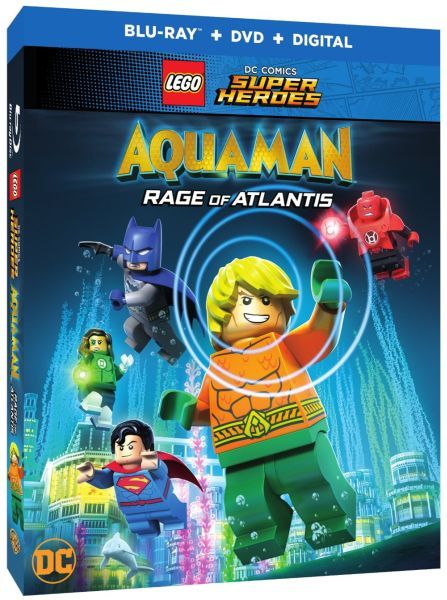 At the beginning of the movie we were not sure if
Aquaman
should continue to be
The King of Atlantis
, his behavior was amusing but not the king level. Even
Queen Mera
, his wife, finds his actions foolish. But as the story goes on you realize that
Aquaman
is more than just a funny character who lives underwater and talks to sea animals. Once troubles hit his Kingdom, he shows new abilities and some wisdom to fight back against villains ready to dry the ocean and take the water to their planet.
LEGO DC Comics Super Heroes: Aquaman – Rage of Atlantis
is new story of underwater battles where lots of favorite superheroes are involved. Teddy finds this movie is similar to previous release
LEGO® DC Super Heroes: The Flash
but with new to him character -
Aquaman
. Overall, it was funny movie to watch and we liked how
Atlantis
is built of LEGO blocks.
The movie is available on Digital and Blu-ray today, July 31!