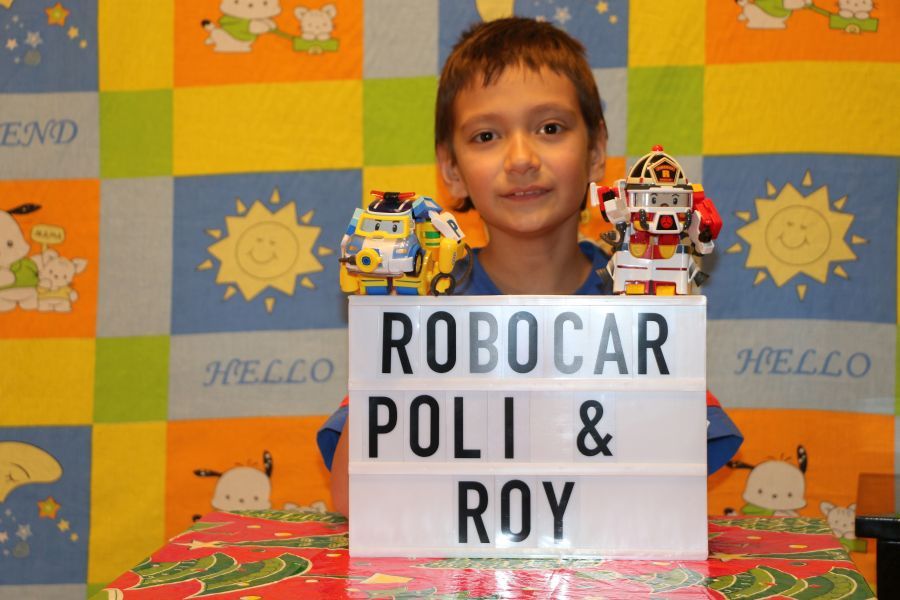 Robocar Poli
is famous South Korean animated children's television series launched in 2011.The stories about
Robocar Rescue Team
on a beautiful island
Broomstown
became so popular that now kids watch them around the world including Canada. Teddy watched Robocar Poli episodes first time when travelling in Europe and he liked them so much. When he returned back to Toronto, he found the series on
Treehouse TV
saying that it is amazing to have
Robocar Poli
at home.
There is always something happening in
Broomstown
. And fast police car,
POLI
, strong fire truck,
ROY
, clever and kind ambulance,
AMBER
, and witty helicopter
HELLY
are always ready to help. Four friends from the
Robocar Rescue Team
arrive to save habitats, friends and everyone who needs their help from danger! Their abilities to transform are amazing, from cars to robots, a spaceship or a submarine.
Even more exciting to watch favorite series with
Robocar Poli
toys. There are a whole set of Robocar Poli toys are available in Canada for kids ages 3 and up and we had a chance to play with some of them. Teddy got
Poli Action Pack
and
Roy Action Pack
, representing two main characters Poli and Roy from the
Robocar Poli
series.
POLI
is a brave police car and the leader of
Broomstown Rescure Team
. He is responsible for the town's traffic order and safety.
Poli
serves to protect the lives of citizens and their properties.
Poli Action Pack
includes
Transforming Robot
and
Diving Accessories
.
Poli
toy features three modes -
Car Mode, Robot Mode
and
Diving Robot Mode
. It is easy to transform
Poli
from car into robot and back, the parts are easily pulled and snapped together.
ROY
is the strongest amongst the
Robocar Rescue Team
members; he is Broomstown's favorite firefighter. He is responsible for putting out any fires. Roy also rescues his friends from accidents.
Roy Action Pack
offers three modes –
Car Mode
as Firefighter Truck,
Robot Mode
and a
Space Robot
. It is amazing how
Roy
can transform from a car into a special spaceship or a Robot Hero, just change few parts and the toy is ready to play with. Extra accessories like a turbo engine on the back and special space mask help to turn
Roy
into an astronaut.
These are really cool toys. They are designed so well that even little kids can transform toys into different modes. The accessories which are included in the packs make the characters even more interesting to play and give kids opportunities to various imaginative plays. Like
Poli
and
Roy
are driving fast on the road, helping kids as robots or diving into the ocean, fly into the space to rescue someone. And they are cute too.
There is a whole line of
Robocar Poli
products available on
Amazon
, at
ToysRUs
and Walmart. The selection includes more characters of
the Robocar Rescue Team
, vehicles, playsets and
Broomstown
buildings, check them
here
.
Robocar Poli
series is now airing on
Treehouse TV
and Netflix in Canada.