As much as kids love My Little Pony stories, new
Shout!Factory Kids
DVD release this month
My Little Pony Equestria Girls - Magical Movie Night
made them really happy. There are three episodes and they connected to each other. Join
Rainbow Dash, Rarity, Sunset Shimmer, Starlight Glimmer
and others in their magical movie journey. There are lots of music, dancing, movie shooting and mysteries!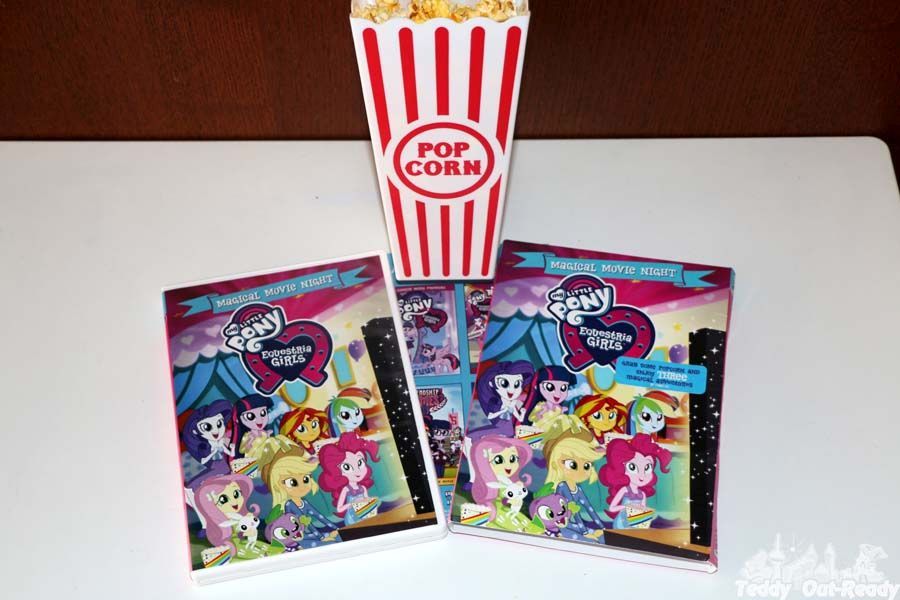 The first episode is
Dance Magic
where dance moves take you on an interesting adventures. The
Equestria Girls
need a plan to raise money for the
Camp Everfree
fundraising campaign. Rarity finds out about a music video competition with a pretty good cash prize at local mall and wants her friends at
Canterlot High
to enter the contest. Other contestants from
Crystal Prep Academy
also participate in the contest. And they practice vigorously and have an amazing choreography. Nevertheless every girls group have something to bring to the competition and to the dance. There are different dancing styles, dancers skill and levels. But the girls learn that teaming up produces better result that competing with each other.
The second episode is
Movie Magic
, where
The Equestria Girls
have been specially invited by
A.K. Yearling
to go on the set of the upcoming
Daring Do
movie. They are super excited especially
Rainbow Dash
, who is such a good fan of the main star of the shooting film. However, when a rare and important prop from the set goes missing,
The Equestria Girls
has to find out what is going on and help the production continue. They have to track down the prop, find evidences and even save themselves against a malicious mysterious figure chasing them around the studio and trying to hurt them. So real adventures become more like a movie plot for the girls.
The last episode is
Mirror Magic
where
Sunset Shimmer
needs to return to
Equestria
as a pony to get a new journal as her old one is almost finishes. There, she meets new pony Starlight Glimmer and agrees to bring her back through the mirror portal to experience life as a human girl at Canterlot High. while Sunset Shimmer is away, a revenge‐seeking Juniper Montage finds a beautiful hand mirror enchanted with Equestrian magic. She buys the mirror in a regular store in the mall and quite fast finds out how it works. This mirror provides a window into another land and also makes things disappear into limbo, trapped between the two realms! When Sunset Shimmer returns girls are missing and Juniper Montage makes her disappear too. Luckily Starlight Glimmer is there who sees what is going on and eager to help!
My Little Pony Equestria Girls - Magical Movie Night
is now available on DVD from
Shout!Factory Kids
. It also includes a
Sing-Along
from
Dance Magic
episode. For everyone how like activity kits there are also two coloring sheets available to download at
Shout!Factory Kids site
, completely free!
For our readers we are happy to give a chance to win two of
My Little Pony Equestria Girls - Magical Movie Night
DVD thanks to
Shout!Factory
and their amazing team.
The giveaway is open to US and Canadian residents & ends September 5, 2017!
a Rafflecopter giveaway