In Disney's
Alice Through the Looking Glass,
an all-new spectacular adventure featuring the unforgettable characters from Lewis Carroll's beloved stories, Alice returns to the whimsical world of
Underland
and travels back in time to save
the Mad Hatter
. Directed by James Bobin, who brings his own unique vision to the spectacular world Tim Burton created on screen in 2010 with "Alice in Wonderland," the film is written by Linda Woolverton based on characters created by Lewis Carroll and produced by Joe Roth, Suzanne Todd and Jennifer Todd and Tim Burton with John G. Scotti serving as executive producer.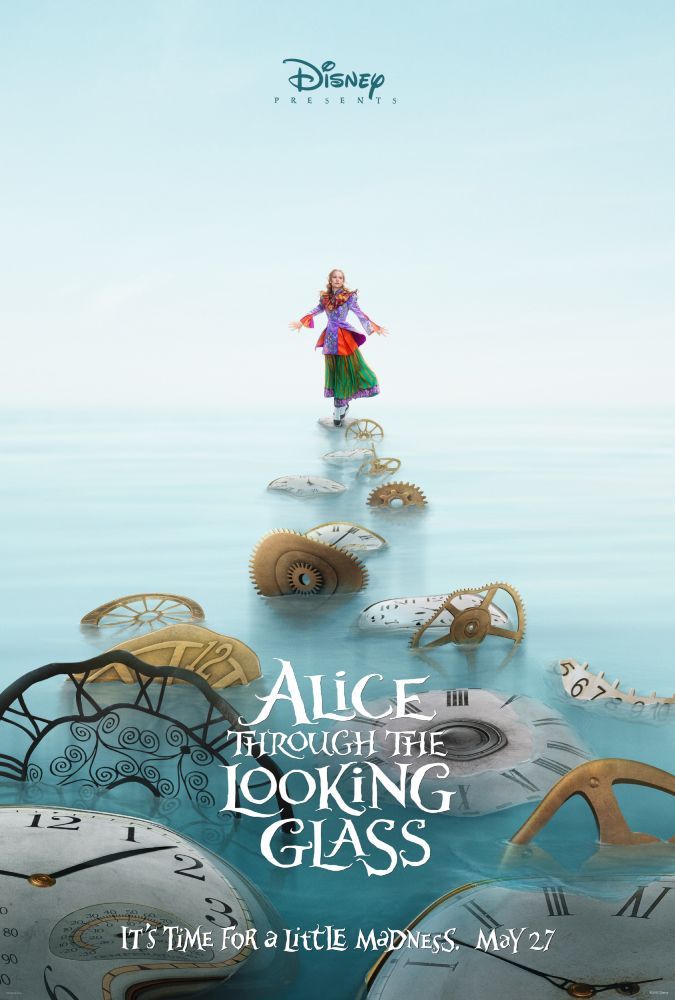 Alice Through the Looking Glass
reunites the all-star cast from the worldwide blockbuster phenomenon, including: Johnny Depp, Anne Hathaway, Mia Wasikowska and Helena Bonham Carter along with the voices of Alan Rickman, Stephen Fry, Michael Sheen and Timothy Spall. We are also introduced to several new characters: Zanik Hightopp (Rhys Ifans), the Mad Hatter's father and Time himself (Sacha Baron Cohen), a peculiar creature who is part human, part clock. Alice Kingsleigh (Wasikowska) has spent the past few years following in her father's footsteps and sailing the high seas.
Upon her return to London, she comes across a magical looking glass and returns to the fantastical realm of Underland and her friends the White Rabbit (Sheen), Absolem (Rickman), the Cheshire Cat (Fry) and the Mad Hatter (Depp), who is not himself. The Hatter has lost his Muchness, so Mirana (Hathaway) sends Alice on a quest to borrow the Chronosphere, a metallic globe inside the chamber of the Grand Clock which powers all time. Returning to the past, she comes across friends – and enemies – at different points in their lives, and embarks on a perilous race to save the Hatter before time runs out.
Presented in Digital 3D™, Real D 3D and IMAX® 3D, Disney's
"Alice Through the Looking Glass"
opens in theatres across Canada on May 27, 2016.
We are happy to give away
one family pass (4 tickets)
per city to advance screening taking place in Ottawa, Calgary, Winnipeg & Edmonton. This is a very short time giveaway and open to Canadian residents who can attend the select screenings:
CALGARY
Wednesday May 25, 2016 7:00pm
Scotiabank Theatre Chinook
EDMONTON
Wednesday May 25, 2016
7:00pm
Scotiabank Theatre Edmonton
OTTAWA
Wednesday May 25, 2016 7:00pm
Cineplex Cinemas Ottawa
WINNIPEG
Wednesday May 25, 2016 7:30pm
SilverCity Polo Park Cinemas
The giveaway ends on Monday May 23, simply fill the form below. Happy Victoria Day and hope you enjoy fantastic long week-end!
a Rafflecopter giveaway