"The Jungle Book"
is an all-new action packed
Disney
movie about
Mowgli
, a man-cub raised by a family of wolves. Based on favorite stories written by
Rudyard Kipling
,
"The Jungle Book"
is a thrilling animation masterpiece to take us to the wild animal world with its own rules and laws. Smart little boy with a kind heart is considered as a threat and no fit in
the Jungle
community even though he does not have any other family than this beloved forest and their habitats. Fearsome tiger
Shere Khan
sends
Mowgli
to a human village with no hope to see back his jungle family.
Lost and confused
Mowgli
leaves but soon finds that he is not alone in this world.
Bagheera
,
Mowgli
's life –long teacher and supporter, who guides him to follow the laws of the jungle, is eager to help the boy to find the right home and protects him as much as possible. During his journey little boys learns a lot about him and what happened to his family. Though the jungle is filled with danger and fake friends who want to support you like
Kaa
, the massive python, who uses her voice and hypnotic gaze simply to treat herself with some food. Or
King Louie
, a huge ape, who wants to take an advantage of the little boy and force to get him Man's deadly
"red flower"
– fire to control the jungle.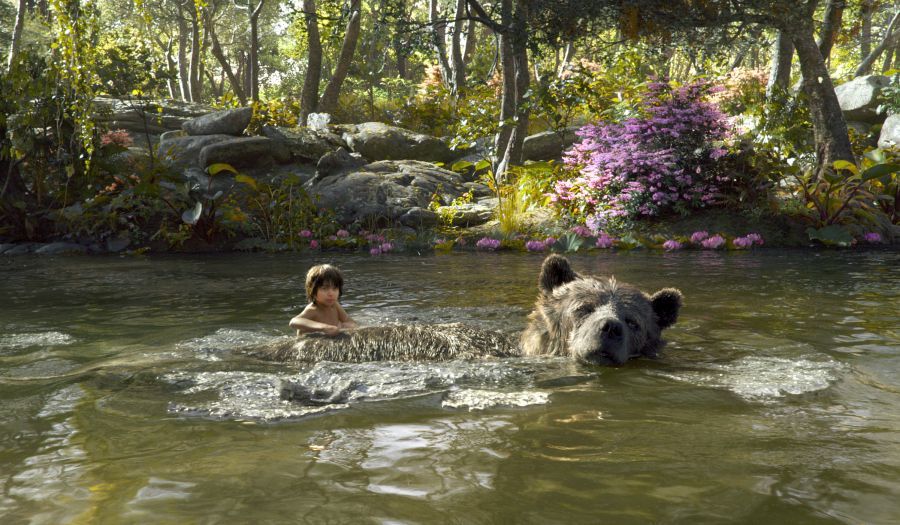 Mowgli
and his new friendship with
Baloo
, funny and easy-going bear, is one of best things happened in the story. While
Baloo
seems only looking for more ways to treat himself with more bee's honey at first, later becomes a good friend of
Mowgli
. The bear shows that there is no need to become someone else to be fit and opens
Mowgli
eyes to what the world is really all about.
Baloo
encourages
Mowgli
to play Mowgli's own rules and totally support the boy's creative thinking.
The Jungle Book
is a wonderful movie for both children and adults. It filled with amazing nature scenes, animals, huge temples, and spectacular waterfalls thanks to 3D effects. The animals talk and are real as if you encounter them in the jungle. Besides visual beauty the story brings some lessons about respect, friendship, nature, finding inner peace. Everyone is unique and everyone is a fit in this wonderful world.
Enjoy the all-star voice cast
Bagheera
the panther
(Ben Kingsley)
,
Baloo
the bear
(Bill Murray)
,
Raksha
the wolf
(Lupita Nyong'o)
,
Kaa
the phyton
(Scarlett Johansson)
,
Shere Khan
(Idris Elba)
and
King Louie
the orangutan
(Christopher Walken)
. The wild adventure swings into theatres in 3D today, April 15, 2016.