The tale of
Sleeping Beauty
was one of my favorite when I was a child, and watching it only makes me feel young again. I remember most of the scenes and honestly I am truly happy that this
Disney's Sleeping Beauty
Diamond Edition
Release brings more enhancements than changes to the movie I know from my childhood.
Sleeping Beauty
is a story about
Princess Aurora
cursed by an evil fairy, protected by three loving fairies and, ultimately, saved by "true love's kiss." Rich colors, nice voices and clear sound make this movie like a new one. The Tchaikovsky music theme goes through the whole movie, so that you want to sing and dance yourself. The pretty thing is that you know already every scene and what is going to happen next but want to watch it over and over again. After seeing
Maleficent
earlier this year,
Sleeping Beauty
' villain does not look so dramatic. Though Teddy when first looked at the cover said
"This is Maleficent"
, giving
Princess Aurora
only second mention.
Sleeping Beauty
is filled with romantic moments, very funny and even scary ones. We enjoyed the scene when Aurora dances with forest animals and how she meets
Prince Phillip
. I also like
Prince Phillip
's phrase which sounds familiar for many generation of parents and children:
"Now, father, you're living in the past. This is the 14th century!"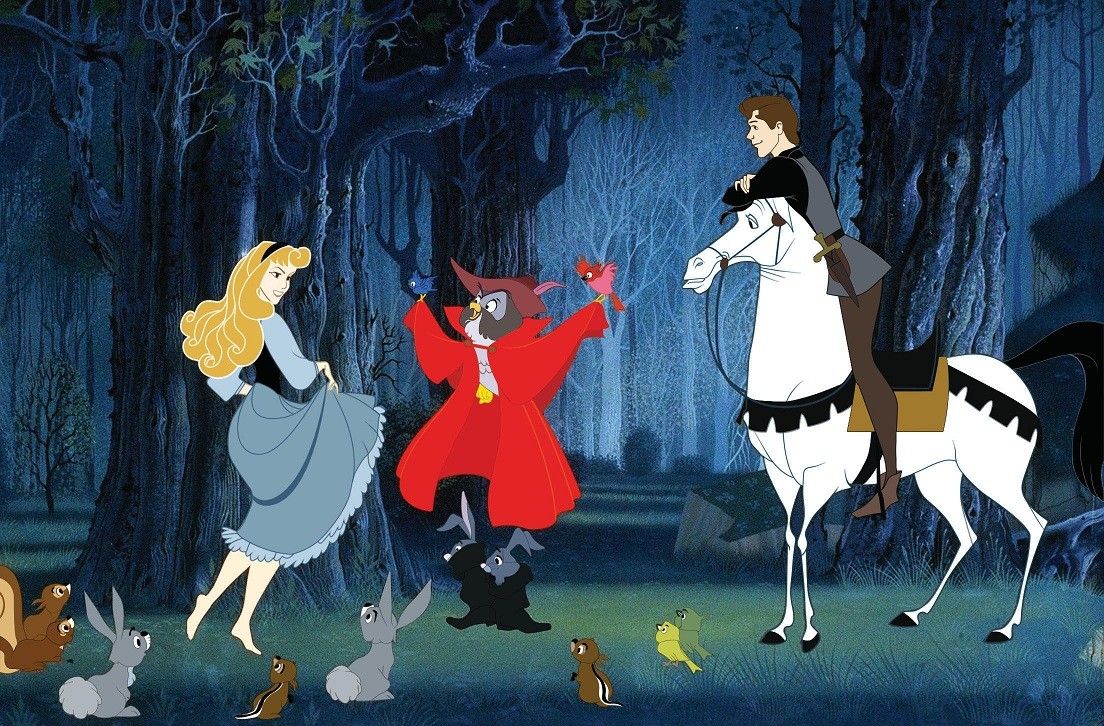 Sleeping Beauty
is the sixteenth animated feature in the Disney animated features canon and was the last animated feature produced by
Walt Disney
to be based upon a fairy tale. It is the tenth film released as part of Disney's prestigious Blu-ray Diamond Collection.
Featuring the voice talents of renowned opera singer
Mary Costa
as
Sleeping Beauty
and Disney stalwart
Eleanor Audley
as the evil fairy,
Maleficent
, the film's vibrant visuals were created by a team that included
Milt Kahl
and
Ollie Johnston
.
Disney's Sleeping Beauty 2-Disc Diamond Edition Blu-ray Superset (Blu-ray + DVD + Digital Copy
) contains digitally restored picture and sound, a digital copy of the film, and a variety of magical new bonus features, including
"Once Upon A Parade,"
in which
"Modern Family"
star
Sarah Hyland
tells us the tale of Walt Disney World's new Festival Of Fantasy Parade,
"Art of Evil: Generations Of Disney Villains,"
a legacy piece spotlighting Disney's favorite villain animator and
Maleficent
creator
Marc Davis
, and "@DisneyAnimation: Artists in Motion," in which Walt Disney Animation Visual Development artist Brittney Lee goes through the process of creating a three dimensional sculpture of Maleficent, completely out of paper.
Additional all-new bonus features include never-before-seen deleted scenes "The Fair" (with Deleted Character The Vulture,) "The Curse is Fulfilled" and "Arrival Of Maleficent," plus the Beauty-Oke sing-along to "Once Upon A Dream." The Blu-ray Superset also includes classic DVD bonus features and more!
Sleeping Beauty: Diamond Edition
available on Blu-ray Combo Pack on October 7th.